It's been far too long since my last post. Life continues to be crazy busy, and I still have miles to go before I sleep. But I've missed you all, and have much to tell you.
First of all, I want to say a big thank you to my SockRet pal,
Kimberly
, for this wonderful package: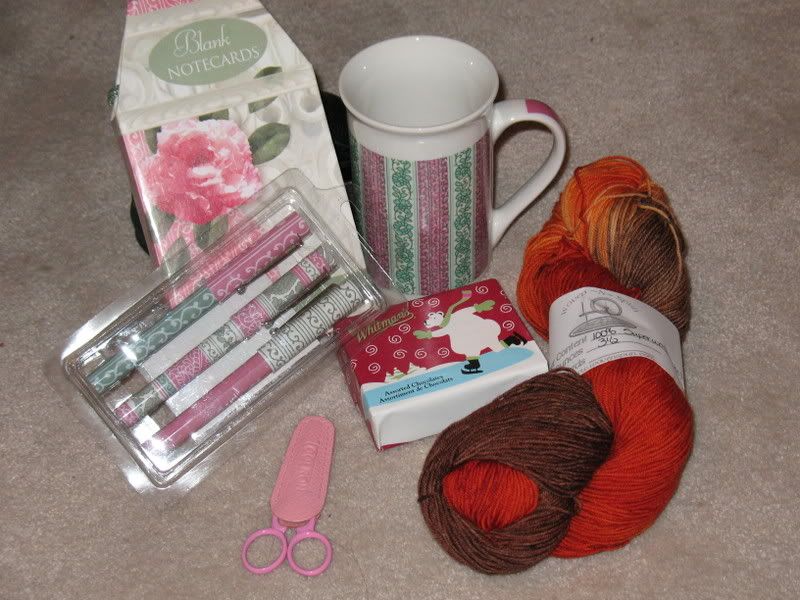 I know we're not supposed to know the identities of our pals yet, but she let it slip in an email, and I'm glad she did. She dyes beautiful yarn and sells it on her website,
Woven N Spun
. She's even offering a 10% discount to SockRet Pal participants, so if you haven't had a chance to see her handiwork, go take a look.
The package that Kimberly sent me included a matching set of notecards, pens, and coffee mug (which I of course will take my tea in). She also sent a sweet little box of Whitman's chocolates and the cutest little pair of pink scissors in a pink case. Those immediately went into my knitting notions bag and I've received many compliments on them. And finally, Kimberly sent a skein of her own yarn in the Pumpkin Spice colorway. Thank you so much, Kimberly! I feel very spoiled.
The pumpkin spice yarn is destined to become a pair of Aran Braid socks, of which you can find the link to the pattern on the Mystery Socks Revealed blog that Amanda did a fabulous job putting together. Very well done, Girlfriend!
We had a bit of snow two weeks ago. It's all gone now, but I wasn't able to share pictures with you then because my camera was broken.
Those are the trees by our driveway. They looked so beautiful flocked with snow. I will be sharing more snow pictures in a later post.
I have been furiously knit, knit, knitting away on so many projects for other people. I enjoy it very much; I think it's fun, and I usually learn something new with each project. Usually the projects are spaced out nice and even to where I don't get overwhelmed. But this time everything happened all at once and I have found myself buried. I do see a light at the end of the tunnel now, but it got pretty hairy for a while there. I've still got plenty of work to do, I'm not done yet, but it's coming along. It's important to me to keep knitting fun; a haven.
Most of the projects that I've been knitting unfortunately can't be shared until they have debuted on their respective websites or in catalogs. I am allowed to show you glimpses, which I will in due time.
One project I can share with you is a scarf that my sister A. asked me to knit for her friend's birthday. Here it is modelled by the lovely Girlie:
The first picture here is just illustrating the gossamer effect of the yarn when it's spread out. Here it is worn as a conventional scarf:
Details:
Yarn: Bernat Matrix, 2 skeins
Needles: Size 13 straights, bamboo
Specifications: Scarf is knit in garter stitch throughout.
Measurements: 18" x 72", with an added 3" fringe to each end.
Notes: This was a very quick knit. Recipient is reported to be delighted and has been sighted wearing said scarf around the windy city of Chicago.

Finally, I got to meet Louisa Harding last week when she came to my favorite local yarn store, Molehill Farm. Here we are standing next to the display of her yarns.

She was a delight to talk to as we discussed her designs and books. Meeting her in person and knowing what a sweet lady she is makes me love her patterns and yarn even more.
My love to all.