I had the honor and privilege of escorting my mom to her 50th high school reunion this fall. There she is in the picture above. Can't you find her? I know right where she is.
Imagine attending high school while Elvis was shaking his hips and singing about hound dogs. Wearing poodle skirts and those black and white saddle shoes. And riding around in those big Chevys. I think I was born too late.
I was happy to go with my mom to her reunion and happy not to attend my own 20th reunion. Why? Because the yahoos I graduated with knew nothing about school spirit, or how to throw a proper shindig. These teenagers in old people costumes know how to throw a party, let me tell you.
The first night was an icebreaker at Round Table Pizza. There were guess the then-and-now photos, and way too many desserts.
The next morning was a tour of the high school. Followed by a really fun fashion show and lunch. The formal dinner and picture was that night. You should have seen those people cuttin' a rug when the 50's songs started playing.
The last day was brunch at a vineyard. I won't say who, but some people got a little tipsy...
Here is my mom and her best good girlfriend JoAnn in front of the Old Main Building of Roseburg High:
If these halls could talk, imagine the stories they'd tell...
These two ladies sure aren't saying:
Brunch at the vineyard. We won't talk about how Andy (down in front with his thumb up in front of all the beautiful ladies) needed to be helped up off his creaky old knees once the cameras stopped flashing. No, we'll keep that one to ourselves.
I had a great time with this lady.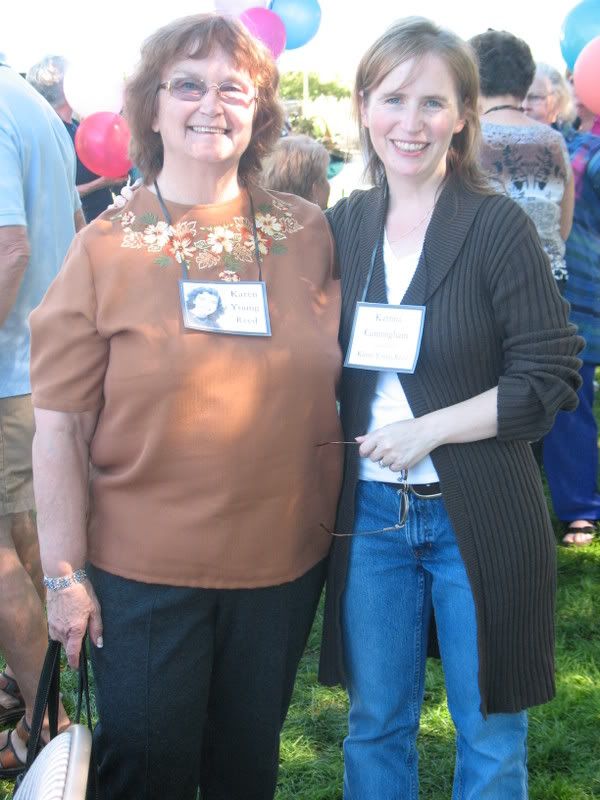 Thanks for inviting me, Mommy.