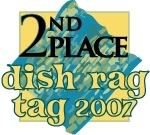 A big congratulations to my fellow members of Team XDR (stands for eXpress Dish Rag. Get it?) (Thank you to Lisa for coming up with the name). We won 2nd place in Dish Rag Tag! It was my honor to be your team captain and to work alongside each one of you. What a great effort that was made by all.
Here is what the box looked like when it showed up in my mailbox:
To see what it looked like by the time it reached its final destination in Alabama, read Emily's post
here
.
This was the box of goodies I sent to Amy in Florida:
And a close-up of the seed stitch heart dish cloth I knit for Amy.
There was quite the stir and drama in my house when the box arrived. I haunted the mailbox, and when I saw the mailman drive up, I snatched it the package out of the mailbox and quickly knit the dish cloth, re-stuffed the box with goodies, and made a mad dash back to the post office. I may have used some salty language. I don't remember--it's all kind of an unreal blur to me now.
My fabulous teammates made the same kinds of effort, and it paid off with a silver medal finish. Thank you to Emily for putting on such a fun contest that took up much of my time with plotting and planning, charting and mapping. And a very special thank you and congratulations to my wonderful teammates Amanda, Donna, Lisa, Erika, Wendy, Val, Elizabeth, Lauren, and Amy. You girls rock!!