I mentioned in an earlier post that test knitting and blogging don't leave much room for one another. First of all, when I'm knitting commissioned work, there's always a deadline. Second, the work is almost always "secret", so I can't talk about it, even if I did have time to write on my blog. When the project is published I finally get to share it with all of you. And I'm sharing one of my favorite assignments so far today, Beaded Placemats for Knit Picks: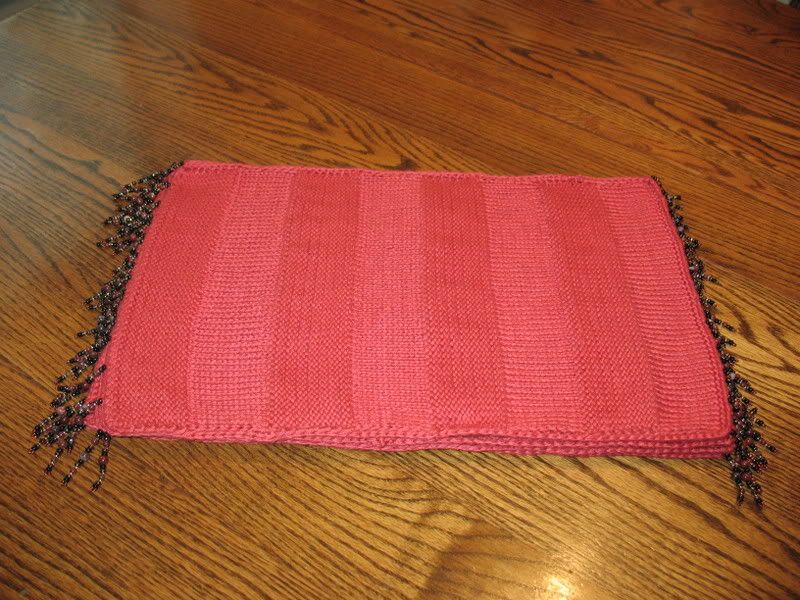 And a close up of the beadwork: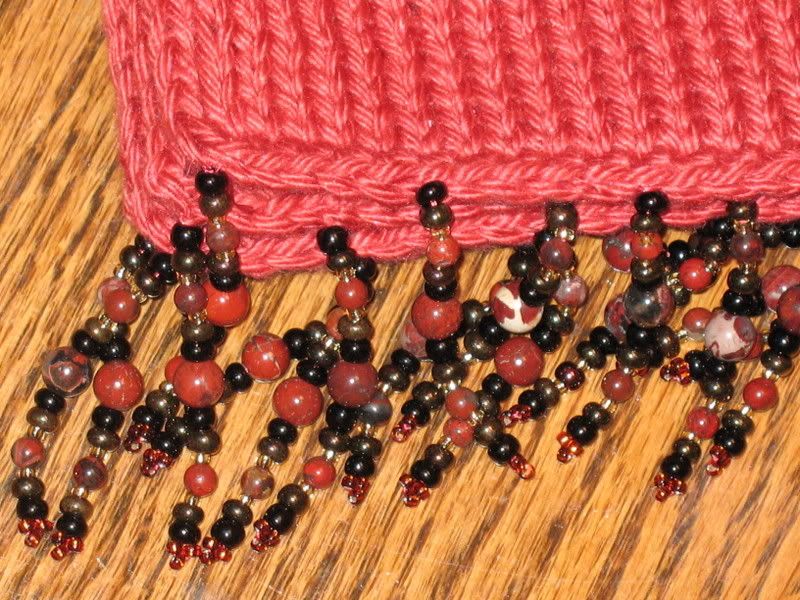 This was the project I wrote about
here
when I was talking about re-learning how to crochet, as the placemats called for a crocheted edge.
Specifications:
Pattern: Beaded Placemats from
Home Knits
by Suss Cousins
Yarn:
Knit Picks Shine Worsted
(love this yarn!) in Terra Cotta
Needles: size 5 straights
Modifications: The pattern called for buying a length of pre-strung beads and sewing it to the edges of the four placemats. Considering my love of beading, this would not do. Instead, I went to the bead store and bought 4mm and 8mm poppy jasper to match the yarn, and copper, black, and gold seed beads to coordinate. I love how they turned out.
The placemats were featured on page 2 of the Summer 2007 Knit Picks catalog, or you can find them
here
on the Knit Picks website.
Since I'm catching up, I may as well "toot my own horn" as my Grandma would have said, and tell you that before mailing my Sockapalooza socks to my pal, I entered them into the Washington County fair. They were my only entry this year, so everything was riding on them. Here is how they did:
See the orange socks just to left of my pink & yellow socks? When I first walked in, I thought those were my socks. I was ok with 3rd place, at least they got a ribbon, but then I realized that those weren't my socks--the ones with the blue ribbon on them were mine!
Hooray! (You're not really supposed to touch the exhibits, but I hoped they would make an exception for one surprised girl). I had been sick with bronchitis for several weeks, and making it out to the fair was one of my first well outings, and what a pick-me-up that was.
But even better: This was the first year that Girlie entered her very own freezer jam in the fair, both strawberry and raspberry. Do you see the blue ribbons on each side of her head? Those are hers!
I couldn't be more proud.
Finally, a highlight to the end of the summer was Cat Bordhi coming to town for a book signing, hosted by Blue Moon Fiber Arts. She talked about her new book,
New Pathways for Sock Knitters
. If you haven't read this book yet, you must! It will completely open your eyes and change the way you think about sock construction. In fact,
Amanda
,
Donna
, and I were so impressed with Ms. Bordhi and her book that we started a knitalong for the book. If you would like to join us, click on over to the
blog
, and if you're on Ravelry, find us
here
.
Here is a picture of me with the ethereal Cat Bordhi:
Did you notice her necklace? It's made of baby socks!
Finally, I'll end with a picture taken of my sweet family at a cousin's wedding over the summer:
Please don't be in such a hurry to grow up, my little ones.