For some crazy reason, my blog won't allow me to use HTML computer language today. What that means is that I can't hyperlink to websites, and that my pictures are kind of random. But stick with me here, we've got a lot of ground to cover.
First of all, you can see by the randomly placed button at the top of this post that I have joined Dish Rag Tag (
http://yarnmiracle.com/2007/06/12/dish-rag-tag/
) is the best I can do for you at the moment. Is anyone else having trouble with their html? I posted on the sock a month knitalong blog with no issues, but this one just is not having it.
Anyway, I am captain of Team #4 (our default name until we decide another, much more clever name). The competition (see, there's that word again) will start in August. Emily will mail boxes out to all the 11 team captains, each box containing a finished dish cloth, two balls of kitchen cotton, and a little treat or two. When we receive the box, we will remove all of the contents, eat the treats, put one of the balls of cotton in our stash, and knit (quickly, I hope) a dish cloth with the other ball of cotton. Then we will fill the same box with the dish cloth we have just knit, two balls of kitchen cotton of our own selection, and some goodies and mail it to the next person on our team. Teams consist of ten players each. Since we have over a month before the competition begins, we are still strategizing over the best route for our box to take. The tenth and final person on the team will mail the box back to Emily. I'm excited already. And NO knitting on your dish cloth until your package arrives. There's no other way to put this mildly, so I'm just gonna say it: I hate cheaters. I hope nobody cheats. That ruins it for everybody. And for what? A coupla skeins of yarn for your ill-gotten prize? I just know that yarn karma would kick in and bite you big time for that. No cheaters.
Since I haven't posted for a couple of weeks, I've got a lot to catch you up on. First of all, my little ZimDee graduated from preschool: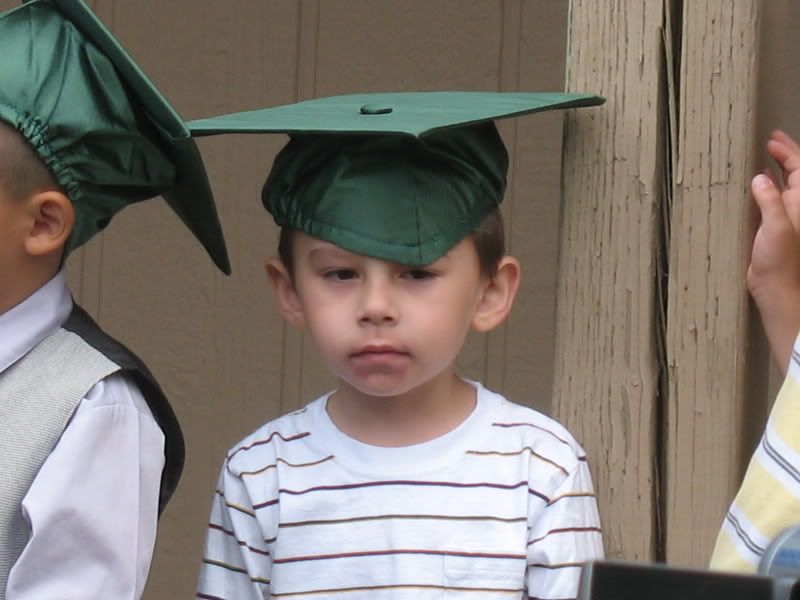 Despite his rather blase' expression, he loved it and it's all he's been talking about ever since. In fact, when I do something that pleases him (like getting him some juice) he'll tell me how proud he is of me for graduating. I love that guy. The ceremony was adorable--you can see they had the children wear caps, and they even played "pomp and circumstance" when they walked out. So cute.
Next, this little dawg turned two years old. Where has the time gone?

A word about my Sproutie: he is the sweetest bundle of naughtiness you ever did see. He's so naughty that it's almost funny (most of the time). Here he is with some of his presents. Think he was mad at me for making him wear the hat? After all, you only turn 2 once. Indulge mommy, sweetheart:
With Auntie and brother (and cousin Natey in the background) with his cake. What a sweety pie.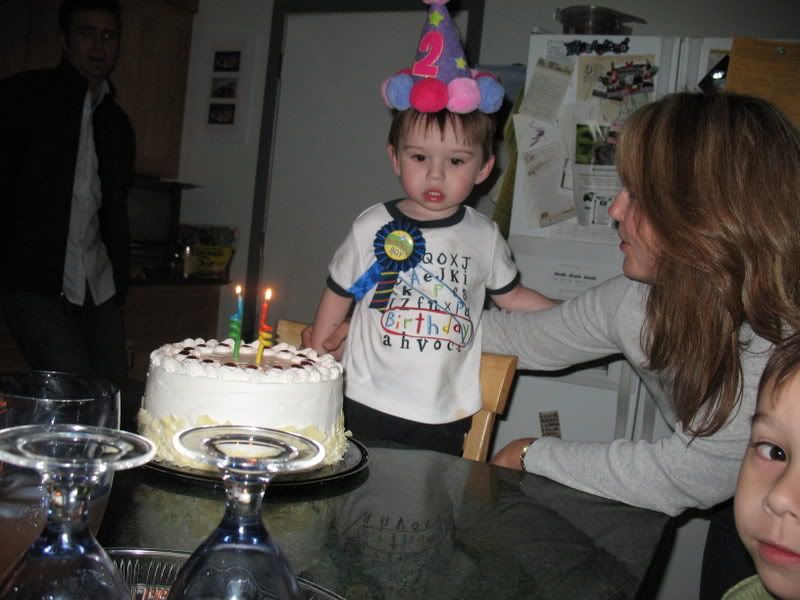 And all of a sudden, my little baby boy is a big little boy. How does that happen? And why so fast?
Ok, before I get all verkempt, I need to distract myself with some yarn. Nothing spectacular, but something I dyed myself.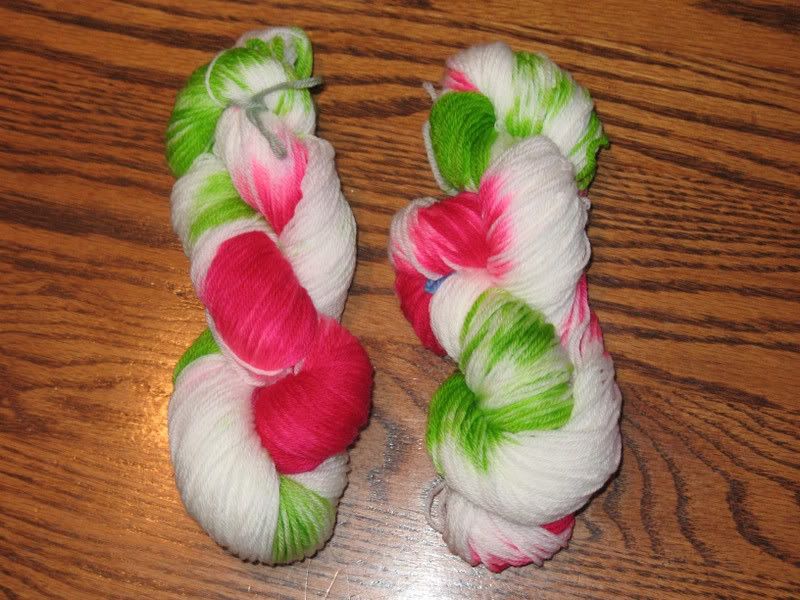 I had a very specific idea in mind that I wanted green and pink and white. I just love when hand painted yarn keeps lengths of white in it. I used Dalegarn Baby Ull. I wound it by hand onto my umbrella swift. I tested a lot of colors I had around the house (Kool Ade, etc.) until I found the colors I wanted to use. I had visions of dyeing yarn all day, but it was so involved and so much work that I was exhausted after finishing these two skeins.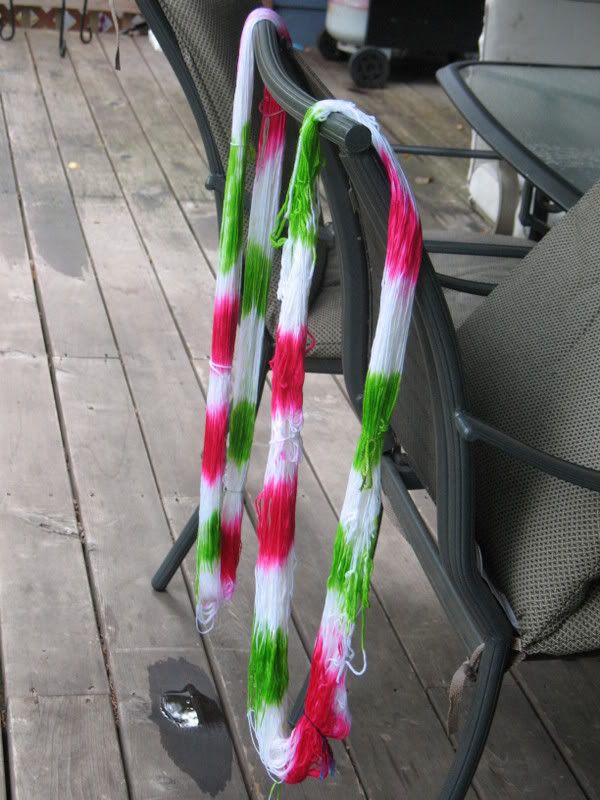 My hats off to all the indie dyers out there who dye yarn into beautiful colors for us to enjoy. I'd like to try my hand at dyeing more yarn in the future, but I would have to invest a little bit of money to get the right stuff. Someday...
Now on to the knitting. Remember the socks I started for my mother-in-law last fall? (I'd link to the post, but remember my html issue...) Well, I finally finished them. Here they are:

They were my May entry for the sock a month knitalong. There's a lot to be said for a knitalong that keeps you accountable to finish at least one pair of socks a month. I'm pretty proud of myself for finishing a pair of socks every month since February. For me that's quite an accomplishment.
Here are the specs:
Pattern: Just plain stockinette, baby.
Yarn: Regia 4 Multi Effekt Color, #5385
Needles: Knit Picks size 1 circular, using the magic loop method.
Comments: I'm so proud of myself for getting the stripes to match exactly on both socks. It involved using up quite a length of yarn (a couple feet) but it was worth it in the end to have the socks look the same. I love how this self patterning yarn works up. Added bonus: my mother in law thinks I'm a genius. Let's not correct her, shall we? I will give her these socks when we visit her sometime this summer.
Next is the sock I knit for my Sock Hop Sock Swap pal. I love the idea of this swap, in which you knit one sock for your partner, and send them the yarn and pattern to finish the second sock (along with some goodies, of course). Here is the sock I sent to my pal: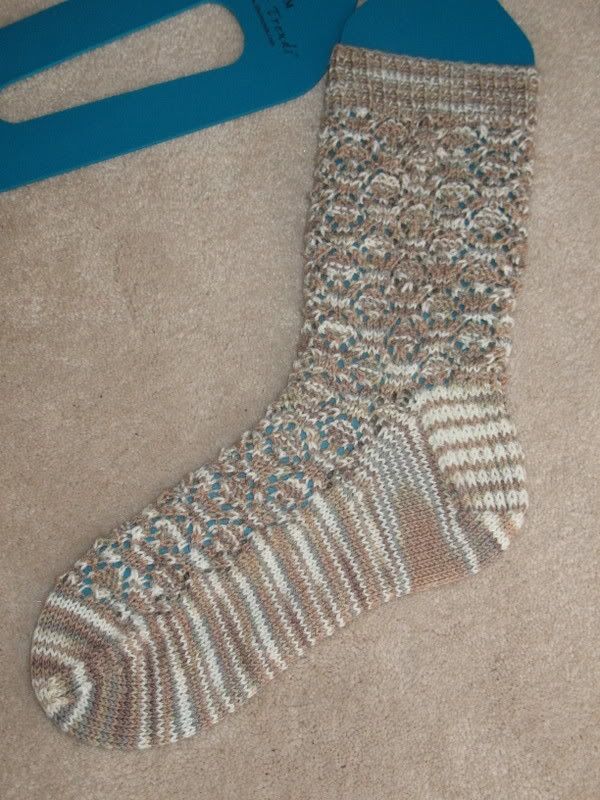 Pattern: Acorn Lace socks by Fiber Trends
Yarn: Lorna's Laces shepherd sock in the Aslan colorway
Comments: My spoilee Cary said her sock fit her perfectly. I will probably knit this pattern again for myself or someone in my family in the future. Lorna's Laces was a dream to work with, as always.
My Sock Hop Swap pal sent me the most wonderful package with a sock of my own to finish. I will post a picture and details soon.
Next is my June contribution for the Sock a Month knitalong. These socks are for my Sockapalooza pal, and I'm so proud of myself for having them done early (they're not due to be mailed until August).
I chose the Conwy pattern from Knitting on the Road by Nancy Bush because my pal had travelled to Conwy, Ireland, and has fond memories of her trip.
As an added bonus, this was the sock I was knitting on when I saw the Yarn Harlot a couple weeks ago. Here she is holding the beginning of the sock: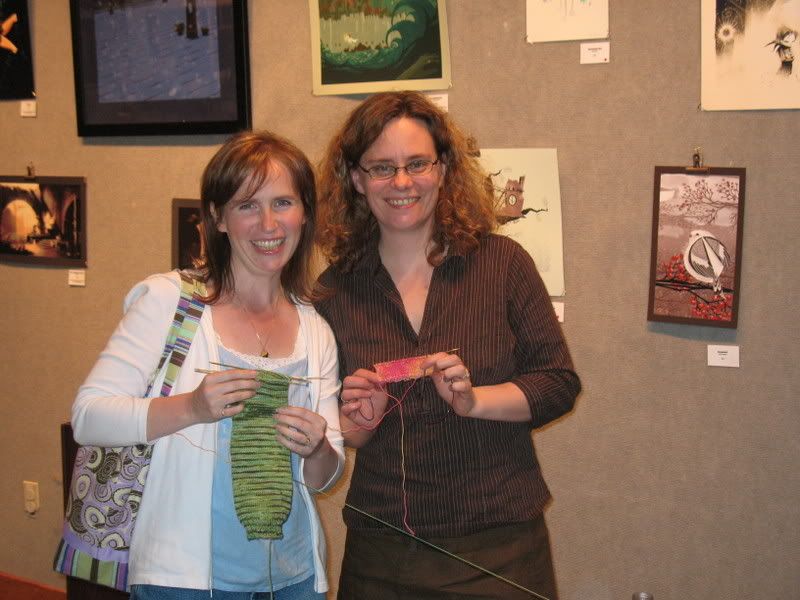 And a close-up of the stitch pattern: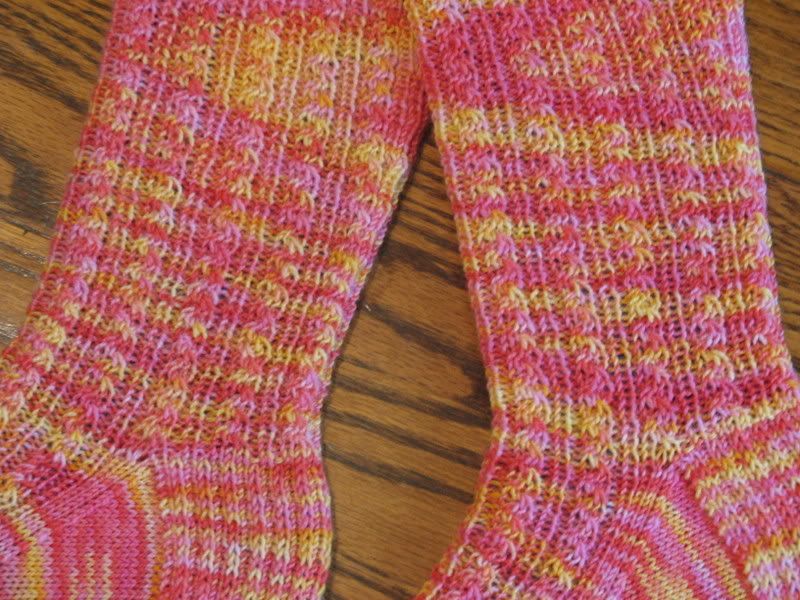 My pal specified that she liked patterned socks, but didn't want one that had a lot of yarn over holes that would easily snag. I think the faux cables in the Conwys worked out spendidly.
I used Sunshine Yarn twist in the Tulip colorway. (http://www.etsy.com/shop.php?user_id=4375) Dani is a very talented yarn dyer, and is very nice on top of that. I would highly recommend her yarns if you haven't seen them before.
Finally, what is this yarn? No, I didn't dye it myself (even though I have three willing helpers at the ready at all times--one of which is pictured in the photo). I left that to the masters at Blue Moon Fiber Arts. This is the Sherbet colorway. Wonder what it is destined to become?
It's the project I'm working on now. Details to follow.
My love to all. I've missed you.