At the one year anniversary of this blog (already?) and as the year 2006 draws to a close, I'd like to share my reflections.
In a year that brought wonderful gains and immeasurable loss, knitting has been a constant calming influence.
First of all, if it weren't for this blog, I wouldn't have met so many wonderful knitters and bloggers, and I know that I never would have accomplished so much in my knitting skills and projects. Some bloggers I've met in person, wonderful people all, and some I have yet to meet, and I look forward to that day as well.
When this year started, I had barely moved on from rectangular scarves and square baby blankets. Oh, how things have changed.
This year I learned how to knit hats. My first hat was for the Knitting Olympics. (
*Olympic Rowan Aura Hat
). That was such a fun way to feel like a community among some 4,000+ knitters. I know it was a pain for the Yarn Harlot to organize, but I had a blast. I went on to make a total of 11 hats this year. Here are the links to the others:
*Rowan Aura Hat for A.
*Sproutie's hat
*Natey's Noro Hat
*The Count's Noro Hat
*ZimDee's Noro Hat
*Mother's Noro Hat
*Natey's red wool hat
*Natey's black cotton hat
*The Count's If-You-Want-To Hat
*ZimDee's Fishie Hat
This is the year I also learned how to make socks. Thanks to
Amanda's
Mock Croc Sock knitalong, I was on my way. And addicted. I might as well state that right up front. There are so many beautiful sock yarns out there, my head starts spinning just thinking about it. Here are the socks I made this year:
*Mock Croc Socks
*International Socks of Doom for Sock Wars (for Mamie)
*Second Pair of Sock Wars International Socks of Doom for Mandy
*Third Pair of Sock Wars International Socks of Doom for Moa
*KnitPicks Lace Socks (teaser)
*Stephanie's Walking Away Socks
I knit three sweaters and one pair of leggings for my little baby, who is now 18 months old.
*Sproutie's Striped Sweater
*Sproutie's 1st Bday sweater
*Sproutie's leggings outfit
I knit a sweater for his sweet older sister.
*Girlfriend's Swing Coat Sweater
I knit two baby blankets, one of which you'll see here:
*Rosie's baby blanket
four scarves:
*Tim's Illusion Scarf
*Silk Daisy Stitch Scarf
*State Fair Daisy Silk Scarf
I knit 6 bags
*Kim's Picot bag
*Blue Picot Bag for Fairs
*Steph's Picot Bag
*Diane's Picot Bag
*Passport Pouch
*Angela's Chocolate Picot Bag
and a pair of clogs
*Poo-dee Clogs No More
.
Unfinished objects started this year but waiting for me to pick them up again include a sweater for my sister, a cardigan sweater for myself, a pair of socks for my mother-in-law, and two pairs of socks for myself. I consider that fairly manageable.
I participated in several knitting swaps and enjoyed most of them. I met some great friends that way.
My knitting goals for the upcoming year are to finish the above mentioned unfinished objects and start a few more. I'd love to learn colorwork this year, intarsia and fair isle. I want to knit a lot more socks, a few sweaters, and a few scarves.
Another goal of mine is to get started on the road to becoming a Master Knitter through the
Knitting Guild Association
. I've received my paperwork in the Basics, Basics, Basics course (a pre-cursor to the actual program) and I will keep you posted on my progress here on my blog.
My favorite knitted project of 2006 is one I didn't even write about on my blog. I don't know why. Maybe it's because it seemed so effortless. I needed a scarf that matched my pink coat, and one morning I went out and bought the yarn and the needles to make it. I sat down that afternoon with a pot of tea and literally whipped it out, and wore it out to dinner that night. I love it because to me it's so striking that it catches my eye every time I pass by it, it served a specific purpose, and the buying and making of it was so pleasurable. (I know some of you thought I miscounted above when I said that I made 4 scarves and only listed 3. Thought you had me there, didn't you?)
The funny thing is, out of all the complicated stitch patterns and new techniques I've learned, and out of all the luxurious yarns I've run my fingers through this year (merino wool, 100% silk, cashmere and cashmere blends), my most favorite knitted object of this year is a simple garter stitch scarf knit with acrylic yarn and fun fur. I kind of like the irony of that. You can take the girl out of the ghetto, but you can't take the ghetto out of the girl. How appropriate. Here are some pictures of the scarf that won the distinction of favorite knitted object of 2006: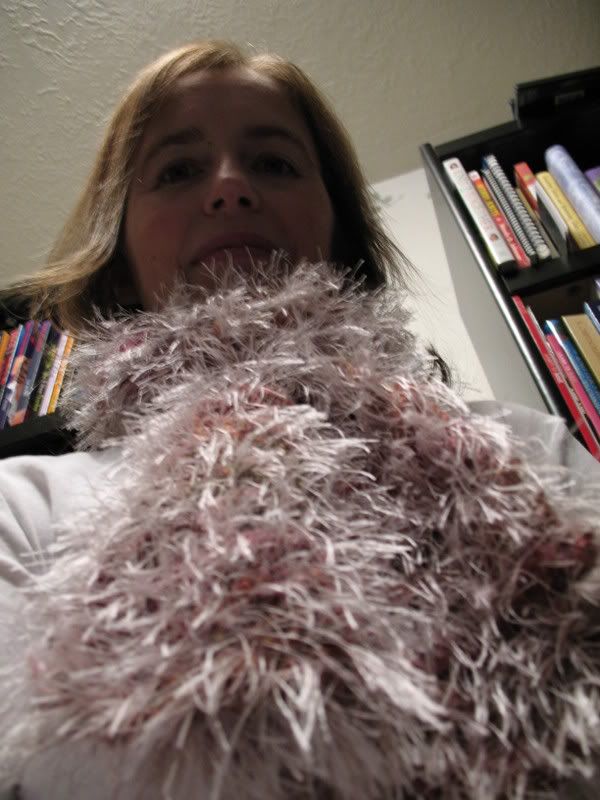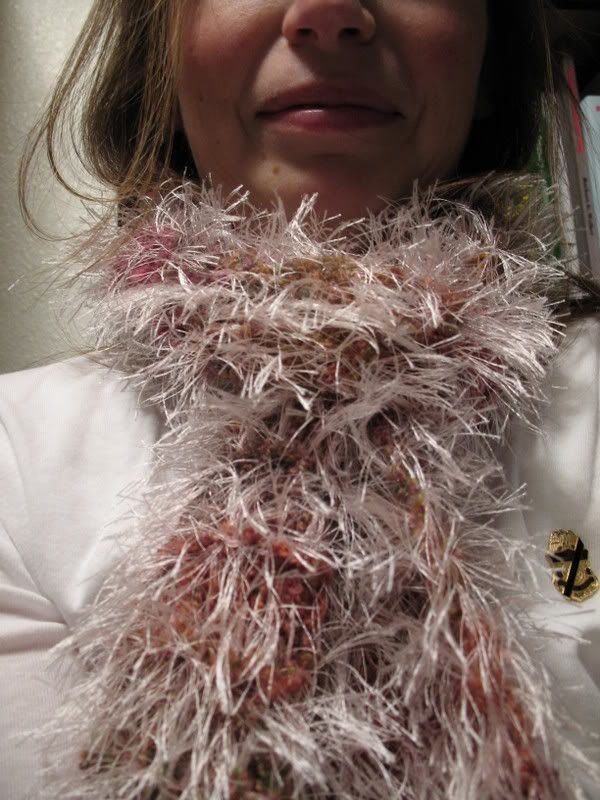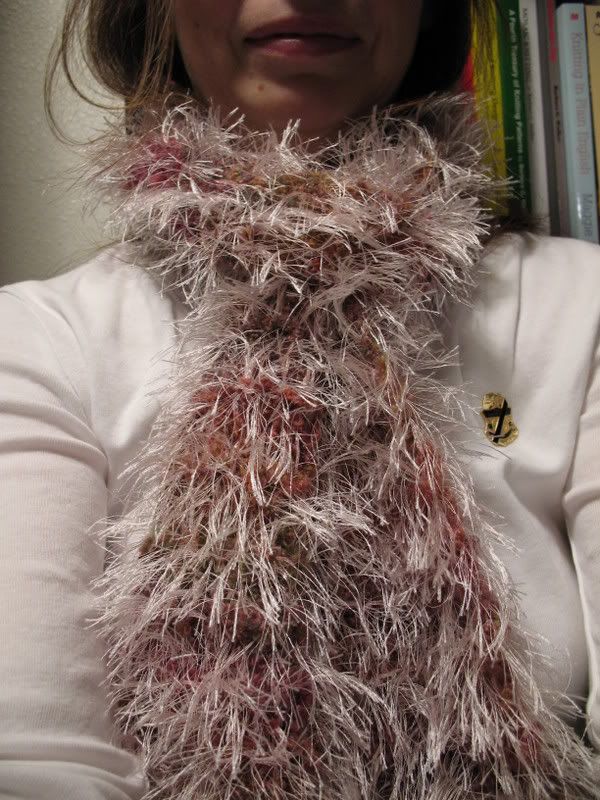 My wish for you all in the coming year, my dear friends, is peace and love and happiness, and just enough new yarns and patterns out there to always keep you wanting more.
All my love, Katrina