Last Sunday the Count and I packed up the kids and went to Sleighbells Christmas Tree Farm in Sherwood, Oregon. (I always wanted to rent a post office box in the town of Sherwood and give my address out as Sherwood Forest and see if the mail would actually be delivered or not...but I digress).
Here is Sproutie (with his shiner-inducing pacifier, no less) looking adorable in his new Christmas coat among the snow-flocked Christmas trees. The flocking was gorgeous, but a little out of our budget this year. Besides, there's nothing like the smell of a freshly cut natural Christmas tree in your house.
Here is my beautiful family among the trees:
The farm was really pretty, with rolling hills of different kinds of trees: Douglas Fir, Blue Spruce, and Noble Fir. Here are Girlie and ZimDee looking for just the right tree for us:
And here I am with my babies, standing next to the 7 feet tall Noble Fir we finally chose. I think it is the most beautiful Christmas tree I've ever seen.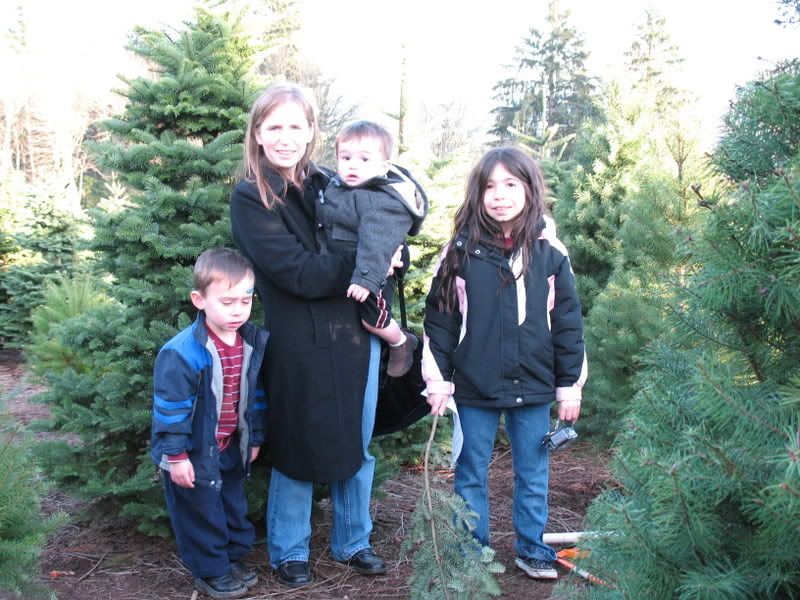 And here I am in front of the tree in our house, lopsidedly but most proudly decorated by my Girlie. She takes such special pleasure in putting the garlands and ornaments on the tree that it's now become our tradition.
As you can see, there is still a trace of the shiner lil' Sproutie gave me. I'm also showing off my new hair color for the holidays. She went pretty dark this time. Maybe it'll make me look a little bit more like my children.
I got ahold of the complete DVD one-season series of a little show called Wonderfalls, and am almost through the third and last disc. Apparently people really liked the show, though only three episodes aired on TV. It's ok. Not horrible. Not great.
I've been busy knitting for my wonderful niece Stephanie. It's a Christmas present, so I'll have to show you later so I don't spoil the surprise. This present was supposed to be for her birthday last month, but I ended up giving her the present I bought for her for Christmas on her birthday instead. I'm really liking how it is turning out.
I sent the lace socks off to Knit Picks and heard back from the design coordinator that she received them yesterday. She had one comment about them: "Stunning." That really made my day.
Things have been really up and down. It's been hard not knowing how I will react to anything. Sometimes I'll be truly fine, then five minutes later I'm not. This unpredictability in my own self is a little startling. The Count has been so supportive, and my kids have been wonderful. They are all keeping me grounded in the busy work of life.
I miss my brother every day. I still don't think I can wrap my mind around the fact that I live in a world that doesn't have him in it. I don't think I will ever get used to that, as long as I live.
Thank you to all who have been checking in with me to see how I've been doing. It truly means so much to me.