I received my prize in the mail from
Emily
for placing 2nd in Dish Rag Tag: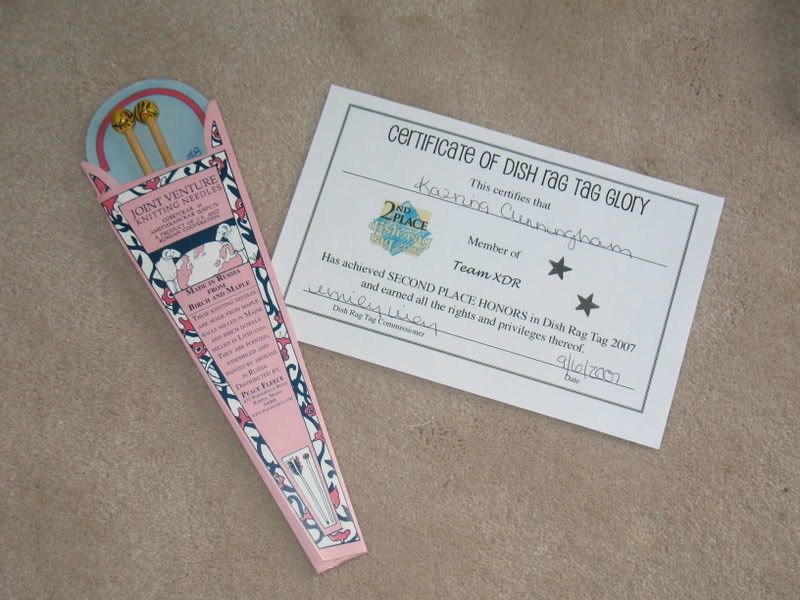 Some pretty wooden knitting needles made in Russia, and a certificate that says in part:
"Certificate of Dish Rag Tag Glory
This Certifies That Katrina
Has achieved SECOND PLACE HONORS in Dish Rag Tag 2007
and earned all the rights and priveleges thereof
signed by Emily, Dish Rag Tag Commisioner"
The certificate made me giggle. I've been involved in a few knitting competitions, and I have to say that unlike some (Sock Wars, anyone?) this one was organized and run very well. A big thank you to Emily for making Dish Rag Tag such a fun contest to be involved in.
And if that wasn't enough, my fabulous teammate
Lisa
sent me a special thank you for being captain of Team XDR:
A sweet card and the most beautiful skein of Dream in Color Smooshy yarn in the Wisterious colorway. *sigh* Thank you so much, Lisa, for such an unexpected and thoughtful gift. I can't wait to knit some socks with this gorgeous yarn.
My teammates have gotten together and decided to do a reverse dish rag tag swap, this time without the time constraints. We will be knitting a dish cloth for the person who sent the original box to us, and loading the package full of goodies for our teammate. How fun is that?
Dish Rag Tag 2? I am
so
there! I would recommend it to anyone who wants to have some fun.