I had gotten so used to not being able to share the knitting process with all of the secret projects I did that now I almost forgot that I could. Come along, friends, and see what I'm working on now:
First is the
Creatures of the Reef Shawl.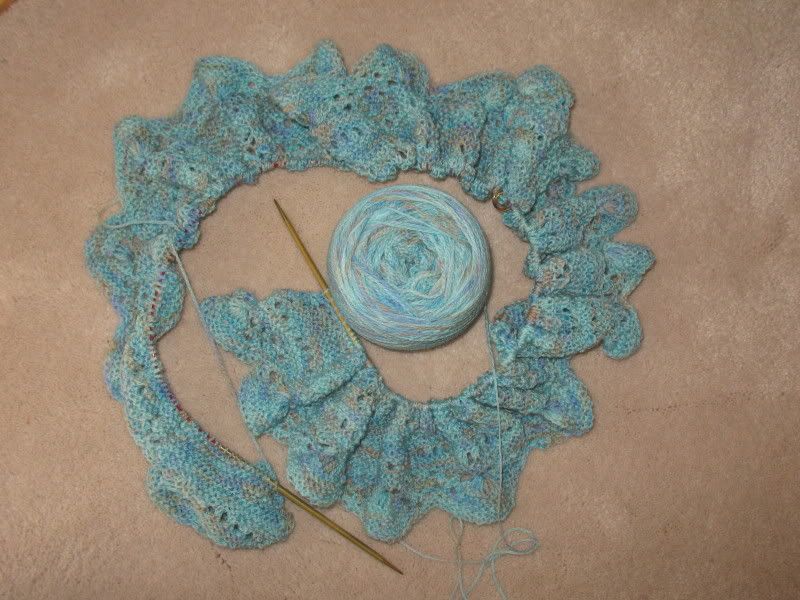 This is my second
Loopy Ewe
knitalong. The first Loopy knitalong I participated in involved a project I couldn't talk about. Where was the fun in that? That project was knit with Dream in Color Classy yarn. This knitalong is all about Dream in Color Baby, which is almost lace weight. The color is Beach Fog. I had bought the Creatures of the Reef pattern almost a year ago, but was too intimidated to try to knit such a large project that involved hundreds of stitches with tiny yarn. When the knitalong came along, I finally felt up to the challenge.
Some of it is surprisingly easier than I expected, and other parts are, well, challenging. It's exciting to see the pattern emerge from the knitting. Below is a close-up of scalloped sea shells that involved purling 13 stitches together through the back loop. It sounds a lot harder than it was.
I'm getting a real sense of accomplishment with this project, and gaining confidence in my knitting. This shawl is definitely only for at-home knitting, when I can pay full attention. But I'm having a great time with it.
Next, I'm in the middle of a 4-week series of a sock class with
Judy Becker
, she of the magic cast on fame. We're learning how to do two socks at a time toe up (say that ten times fast) in class. I had tried this method before on 2 circular needles and found it too fiddly to enjoy. I thought I'd give it one more try, having the chance to learn it from the master. Imagine my absolute happiness when Judy said you can do this method with the magic loop, which is my favorite way to knit socks. The heavens opened up and angels sang and rejoiced. Endless possibilities for my knitting became known.
Here are the socks that I cast on for in class. The yarn is Lorna's Laces Flamingo Stripe, sweetly gifted to Girlie by Patti from my knitting guild. This is my stopping point until the next class on Saturday. Yes, I've finished my homework early like a good student.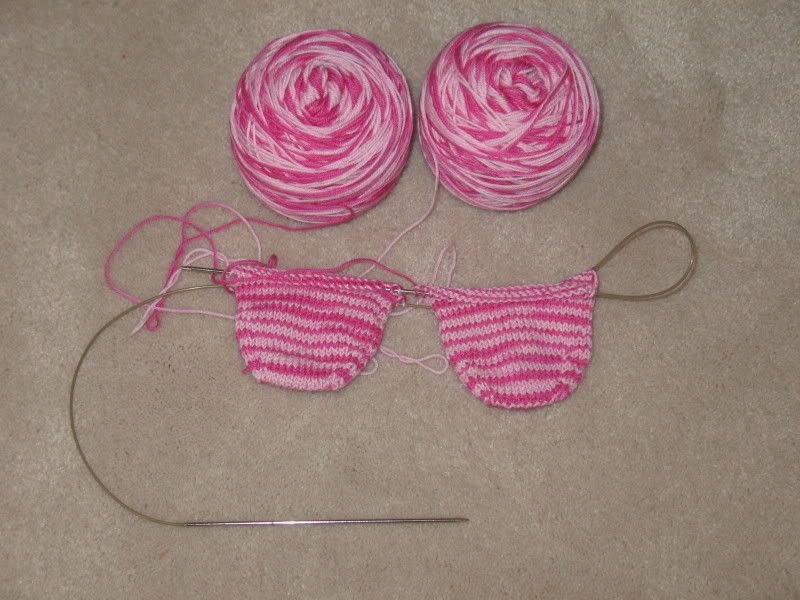 In fact, I'm such an over-achiever that I cast on for a second pair while teaching my mom how to do the magic cast on. This time I used Crown Mountain Farms Sock Hop in the It Takes Two colorway.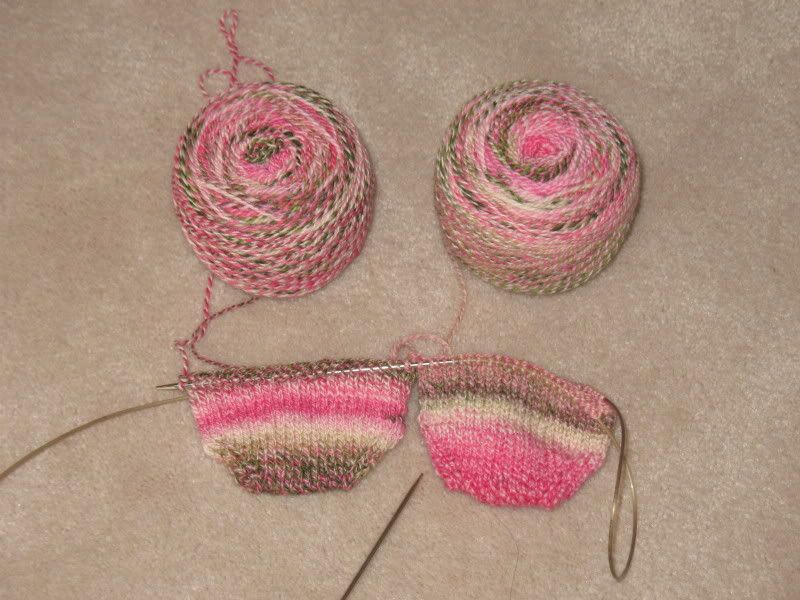 I am in love. The colors, the texture of the hand spun yarn, oy vey. I think I may have found my new favorite sock yarn of all time. Granted, I haven't knit with Wollmeise yet, but until I do, my heart belongs to Sock Hop. (And yes, these socks are also knit to homework dimensions. I wasn't teacher's pet all through school for nothing.)
So now you know what is occupying my time these days. And happily so.
For all of you that remember the fun I had with Dish Rag Tag last summer (my team won 2nd place--way to go, Ladies!) I wanted to let you know that
Emily
will begin sign-ups next week for Dish Rag Tag 2 on Friday, August 1st. I highly recommend it. The number of participants is limited, so mark your calendars. Who knows? Maybe we could end up on the same team this year. If not, I will root for you wherever we land.