It's been a very long time since my last post, and for that I apologize. I am still trying to find out what is the new "normal" for me with everything in my life.
First, let me answer some questions posed by readers. The tea blossom sent to me by my wonderful Secret Pal 10 is available for purchase at
Adiago Tea
. I've already made an order, and found them to be quick with shipping.
Next, how did I become a test knitter for Knit Picks? Last fall I was reading through messages posted on my local Stitch n Bitch board, and the design coordinator for Knit Picks happened to be looking for test knitters in my area and posted a message. I responded, references were checked, and here I am. Not a bad gig.
Speaking of Knit Picks, I finished my latest assignment last week. I've mentioned this before, but it bears repeating: secret test knitting is not very conducive to regular blog writing, when I am not able to talk about what it is that I am knitting. I'll try to keep my sidebar updated so you'll know when I'm working on test knitting projects. If I haven't written in a while, chances are it's because I'm working on a secret assignment.
I can't show you or tell you what the project is, but I can give you a sneak peek. Remember in my last post how I was worried about doing a crochet border? This picture illustrates a border without the crochet edging, and one with. It's very subtle, and though my camera didn't pick up all the stitch details, it's quite a noticeable difference in person.
(The finished crochet edge is the one on the bottom). Isn't that color lovely? I never would have chosen it myself, but after knitting with it, it really grew on me. It's Knit Picks Shine Worsted in Terra Cotta. And here is a super secret sneak peek of the beaded fringe I added: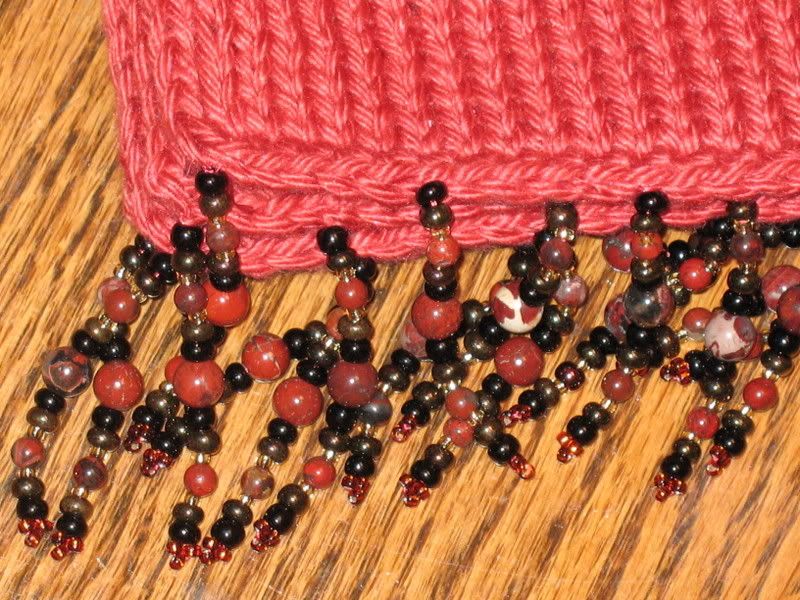 The round reddish colored beads are Poppy Jasper. I have to say, I'm very pleased with how this project turned out. Look for it in an upcoming Knit Picks catalog.
Next I want to say a big thank you to
Kimberly
, my very gracious Sockret Pal spoiler. Look at the final package she sent me: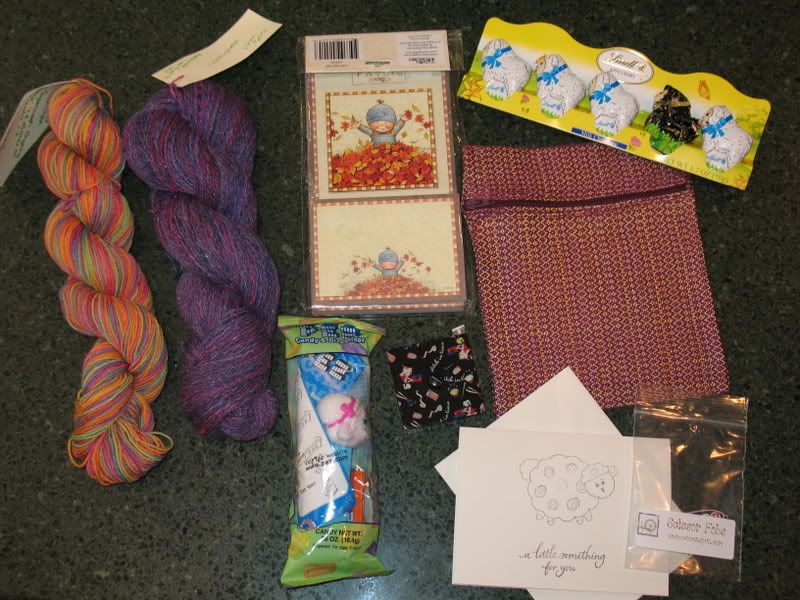 There was chocolate sheep (I love that they included a black one), a lamb pez dispenser, some note pads, a scissor fob with "Trina" spelled out, a tape measure, a zippered pouch woven by Kimberly, an adorable sheep card, and two skeins(!) of yarn spun and dyed by Kimberly. Here's a closer look:
My camera doesn't show it very well, but that purple skein is very sparkly. I love it. And what's the name of that pretty little multicolored skein of yarn on the left, you ask? Well, it's "Trina". Kimberly dyed it up just for me. *doing the happy dance*
And the icing on the cake was the pair of socks Kimberly knit for me out of the same yarn: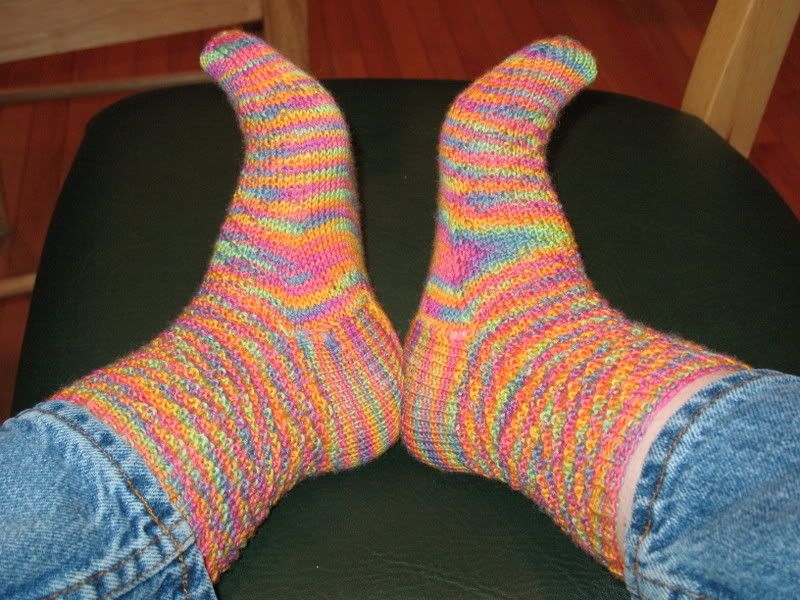 Aren't they adorable?
Thank you so much, Kimberly! It was very nice getting to know you through the Sockret Pal swap.
Speaking of receiving packages in the mail, I found this mess in my mailbox yesterday:
A horribly smashed, ripped open and
wrapped in cellophane(???)
box.
Let me set the scene here. Last week I was one of the extremely lucky few who was able to score some yarn during
Yarn Pirate's
maiden voyage into selling yarn on her own website. I believe she sold out in a matter of minutes, and her shopping system actually oversold a ton of stock. She had to email several customers and let them know that their order would be delayed while she dyed more up. I didn't get the dreaded email, so I waited anxiously for my pirate yarn. Do you see where I'm going here? Yes, that mangled package was the shipping receptacle for my highly anticipated pirate's booty. (To see what all the fuss is about, click
here
to see some of her amazing colorways).
I anxiously opened the packaged--well, actually, looked inside the already gaping hole that was the box, and my fears were realized. Precious yarn was
missing.
Hyperventilating, I fired off an incoherent email to Ms. Yarn Pirate herself, Georgia, who responded very quickly not to worry, she had me covered. She would mail out replacement yarn the next day.
Georgia, YOU ROCK!
And I just know that some mail carrier in between here and Seattle is living it up with the purloined yarn. In fact, I'm not convinced that the damaged box was an accident at all, but was a result of some sharp eyes on the lookout for packages containing Yarn Pirate's coveted new colorways. After all, we know the ways of pirates, matey.
Would you like to know what I'm knitting now? The progression goes like this: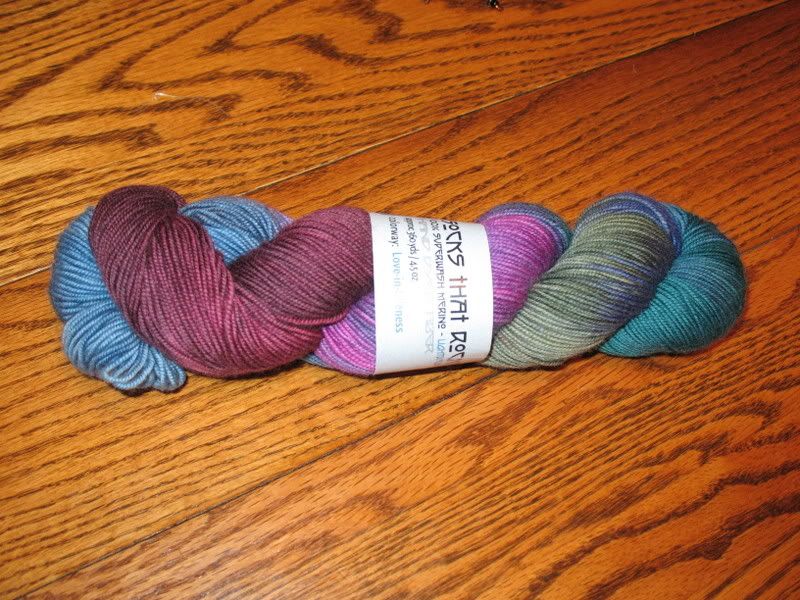 From a beautiful skein of Blue Moon Socks That Rock in Love in Idleness Colorway, given to me in the best birthday present ever from my dear friend
Mamma
, to this:
which is ready to be knit into this: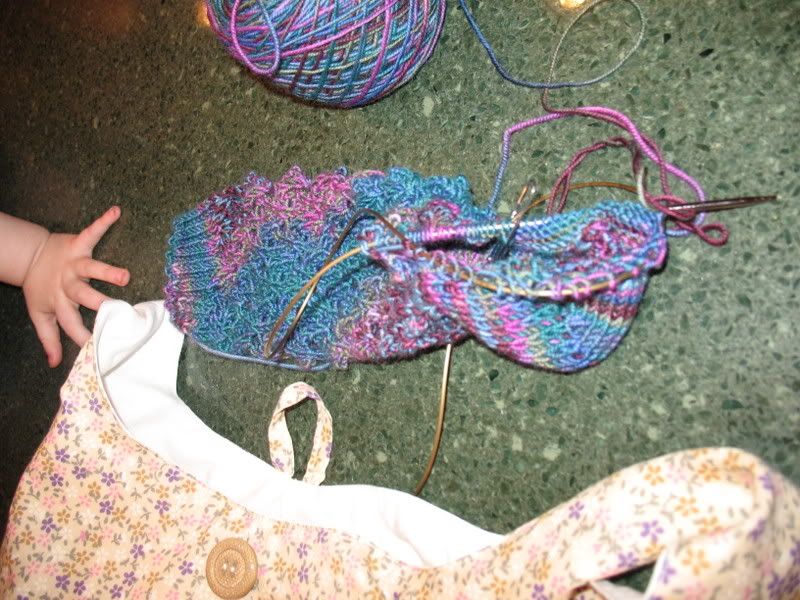 My sweet friend and I are doing another round of friendship knitting, this time to
Titania's Revenge
by Cookie A. This one's challenging, to be sure, but
girlfriend's
got my back with any knitting pitfalls I may encounter, so how can I go wrong?
Say you don't like flashing? You're reading the wrong blog.
And just as quickly as I swooped in here to update you on everything, I will be leaving again. I'm off to Washington DC to
National Police Week
where
my brother
and his fellow fallen officers will be honored. It will be a very emotional time for me and my family, so if you think of me next week, please send thoughts of strength and healing.
My love to all.