There has been a lot of secret sample test knitting going on around here, but I did manage to get a few small projects done in between.
The first is the Square Textures Dish Cloth by Linda Luder. The pattern can be found in the Leisure Arts booklet,
Nifty Knit Dishcloths
. I have to admit that I like white dish cloths the best, because you can bleach them when they inevitably get dirty.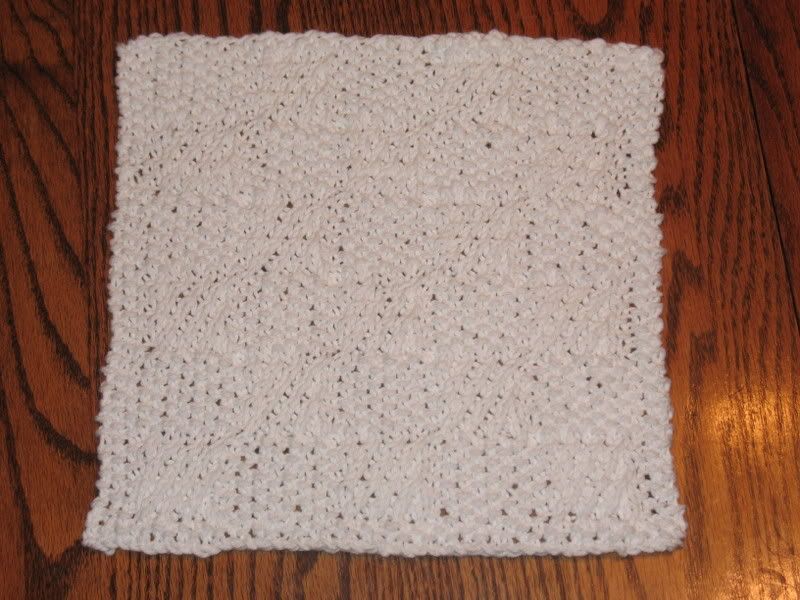 I knit it for my reverse Dish Rag Tag partner,
Wendy
. We had such a fun group for Dish Rag Tag that we decided to keep the fun going by sending some goodies, along with a knit dish cloth, to the person who sent the original package to us in the tag (this time unhurried). Not to toot my own horn (ok--toot, toot) but I was voted
Miss Congeniality
of Dish Rag Tag 2007. All I know is that I had a great time as captain of Team XDR (eXpress Dish Rag--get it?), and my team worked very hard to earn a respectable 2nd place finish. If there is going to be a Dish Rag Tag 2008, I will be the first to sign up for it, and I would recommend it to anyone. It's great fun, and Emily organized it very well.
As for Christmas knitting, ZimDee (he of the big brown eyes and toothless grin) asked me to knit a hat for his kindergarten teacher, and it had to be purple. How could I resist the charms of my 5-year-old child, the one most appreciative of my knitting? I could not. Behold, the purple hat: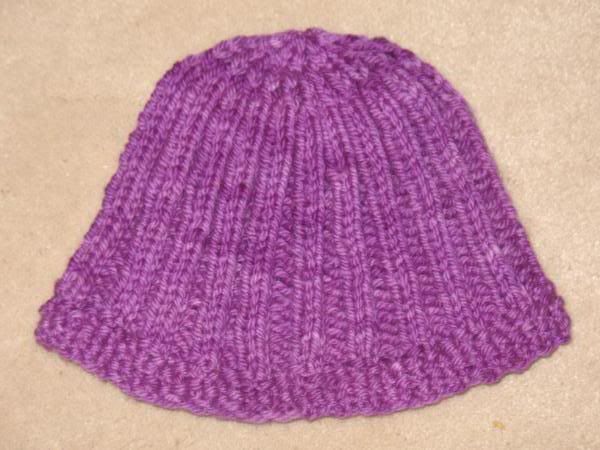 Modeled by the very handsome Sprout under the Christmas tree, as he was the only child available at home for me to try the hat on at the time:
Isn't he precious? Though at times I wish he would stay as still as he is in this picture.
Specifications:
Pattern: Blue Sky Alpacas Royal Baby Set
Yarn: South Company Rio De La Plata, 100% Merino wool, in the Sparkling Grape colorway
Needles: size 9 circulars; 16"
Notes: This pattern was written for baby size, but in using thicker yarn and larger needles, it easily fit an adult (even though it's being modeled by a baby in the picture--tee hee).
ZimDee reports that his teacher loved the hat. Please add a star to my mommy crown.
And speaking of ZimDee, he was in need of some thick house socks. Mommy to the rescue again: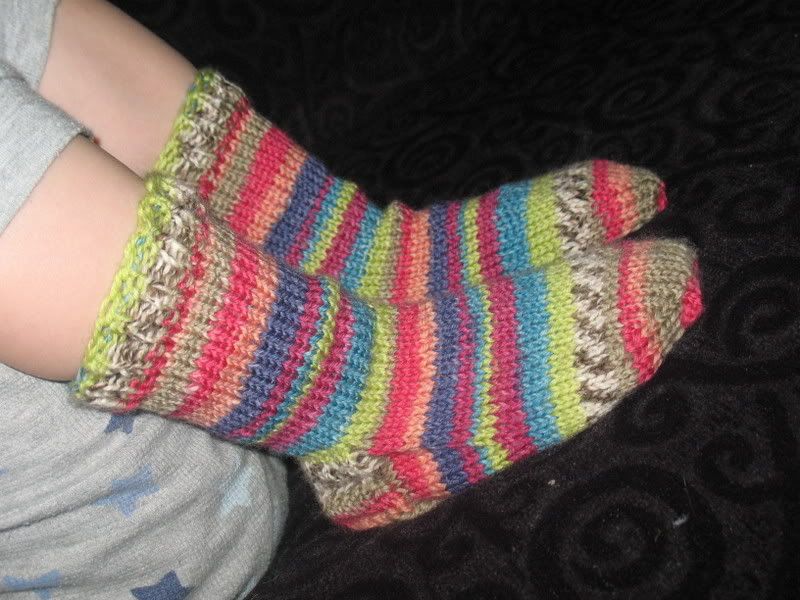 His little legs and feet look so adorable modeling his new socks. Please note that the stripes match up perfectly. I had to waste 3 feet of yarn, and break into another ball of yarn when an unmatched pair would have easily used one, but doesn't this picture make it all worth it?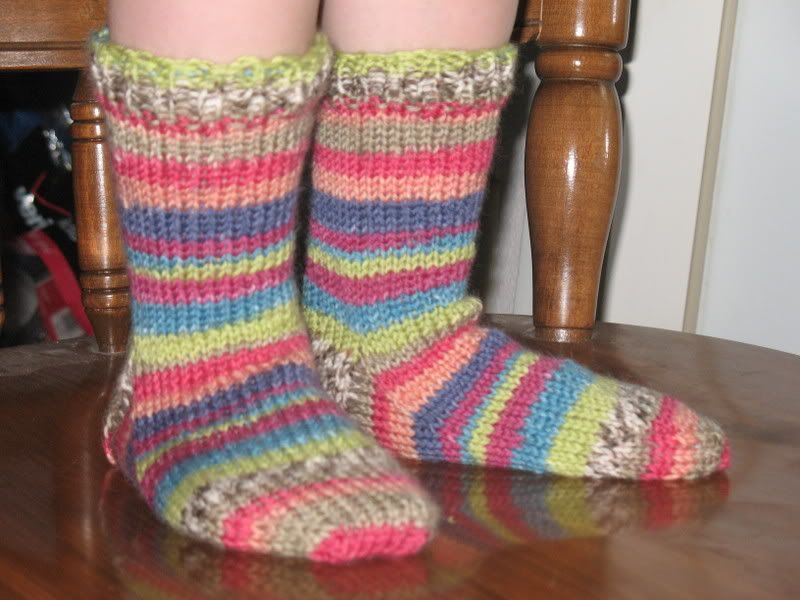 I thought so.
Specifications:
Pattern: simple basic stockinette socks, using the magic loop
Yarn: Adriafil Knitcol, color 049
Needles: size 6/ 32" circulars
It was nice to finally knit something that was actually going to stay in my house for once. I must do more of that in 2008.