I can feel spring coming. Whether it's the little patches of sunlight that are trying to shine through or maybe it's just the hope in my heart, but I'm excited for the coming of spring. For the crocuses and daffodils, and most especially the tulips to poke their sleepy heads out from their comfy bed of earth. Much like how I found my children when I came to tuck Girlie in to bed last night: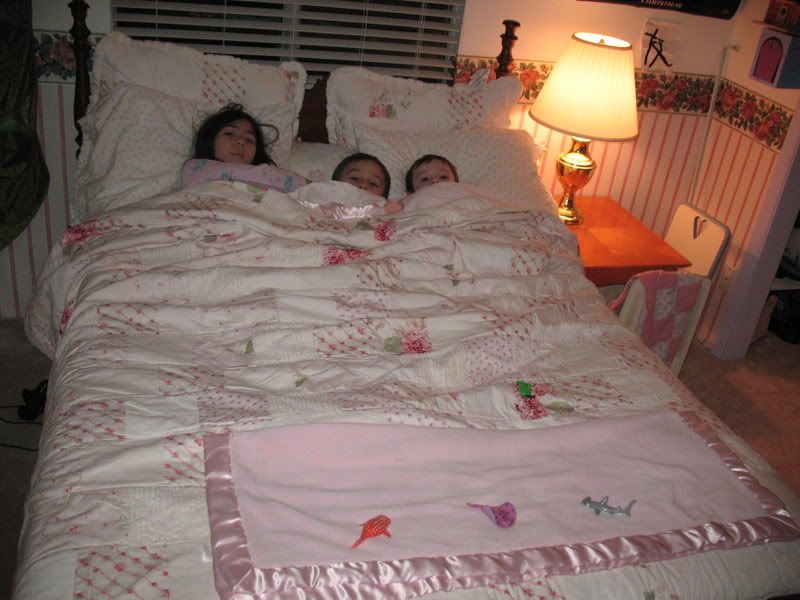 Spring cleaning has hit with a vengeance here in my home, and Girlie's room got a complete makeover. Her fluffy bed looked so inviting that her brothers had to try it out for themselves. I love how you can only see the boys' little brown eyes peeking out. And notice, if you will, ZimDee's contribution to the decor of the bed by carefully placing his whale shark, ray, and hammerhead shark along the blanket at the foot of the bed. I think I have a future marine biologist on my hands.
Girlie is excited about her new haven, though she's unbelievably kind about sharing her space with her brothers when they want to play. Oh my how I love that girl.
I'm in the middle of a knit for hire project, so knitting talk will have to wait.
While the weather is still cold outside, I've been enjoying sitting down with a hot cup of spicy chai tea, which is quickly becoming one of my favorite things to drink. Don't worry, Peach Pleasure Jamba Juice and PG Tips black tea, you can never be replaced. But it's good to try new things now and then. Especially with the promise of spring fast approaching.