My blog had been particularly quiet these last few months due in part to the holidays and to the busy-ness of sample and test knitting. It's hard to write on my blog when I can't talk about what I'm knitting on, especially when I'm really excited about a project, or when I've had to frog something for the umpteenth time and just want a little love.
On the exciting front, a project that I'm really happy about has just been put up on the
Knit Picks
site. It's the River Rock Scarf from
No Sheep For You
by Amy Singer; pattern by the very talented
Sivia Harding
. Here is the model from the Knit Picks site: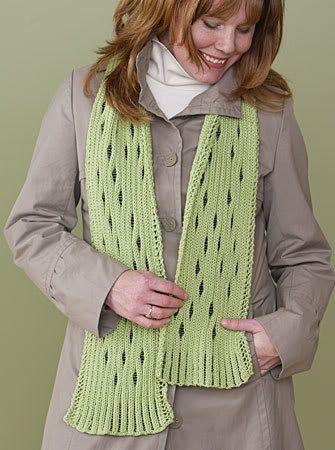 And here is the scarf on me. This was a very hard project to pack up and send away. I'm just going to have to make one for myself. In fact, it's on my list of projects to knit to keep in 2008. My sister A. also had her eye on the scarf while I was knitting it, so I'd love to be able to make one for her as well. As much time as sample and test knitting will allow.
The original project was knit with fingering weight yarn, so the beads (1678 to be exact) were probably easier to load for that than they were on the sport weight yarn that I knit this scarf with, but the end result was worth a couple of broken Big Eye needles. Observe: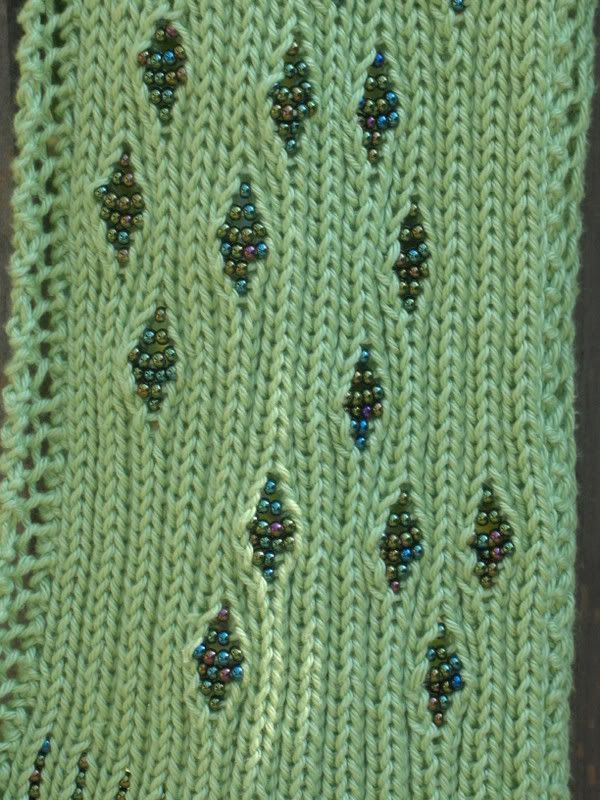 And:
This project was knit with size 7 needles and 3-4 skeins of Knit Picks Shine Sport in the Green Apple colorway.
I finished this project back in October (hence the sunshine and dry deck) but I'm not allowed to blog about the projects until Knit Picks releases them.
A word about sample and test knitting: I enjoy it, otherwise I wouldn't do it. Everything has its pros and cons, and this is no exception. The cool thing is that a lot of times I am assigned to patterns that I might have overlooked otherwise. I learn something new with each and every project, and I feel like it has really broadened my knitting skills.
I just hope that I can find a balance between sample knitting and personal knitting in 2008. It would be nice to be able to share more of my progress with you all as I go along.