My knitting guild put a shop hop together yesterday, and I was on the planning committee. It was great fun, though time-consuming. We as a committee had great chemistry, complemented each others' skills, and checked our egos at the door. Each meeting we had left me feeling like I had something valuable to contribute, and that everyone was pulling their own weight. This was such a positive experience for me, one that I really needed to help me ease back into some semblance of a normal life after losing my brother. A big shout out now to my fellow committee members
Chrissy
, the blogless-but-we're-working-on-that Donna, and Lynette. You girls are rock stars!
Speaking of
Chrissy
, it was just one year ago that we met, during
last year's
shop hop
. What a difference a year makes. Wouldn't you know that we'd be running it this year? But those who know us well aren't the least bit surprised.
Before I get started with pictures of my plunder, I want to say a quick hello to the very sweet
Tiffany
and
Jenni
(it was so nice to finally meet you in person!), as well as my pal
Amanda
, who were all brave enough to come along on the adventure bus. It was great to have you all there! And I just love it that my mom
Karen
was able to join us for the festivities.
Amanda's
post tells you all about the logistics of the shop hop, so I won't repeat them here. Let's just get to the good stuff: the plunder!
At our first shop, All About Yarn, I found this yummy yarn and pattern: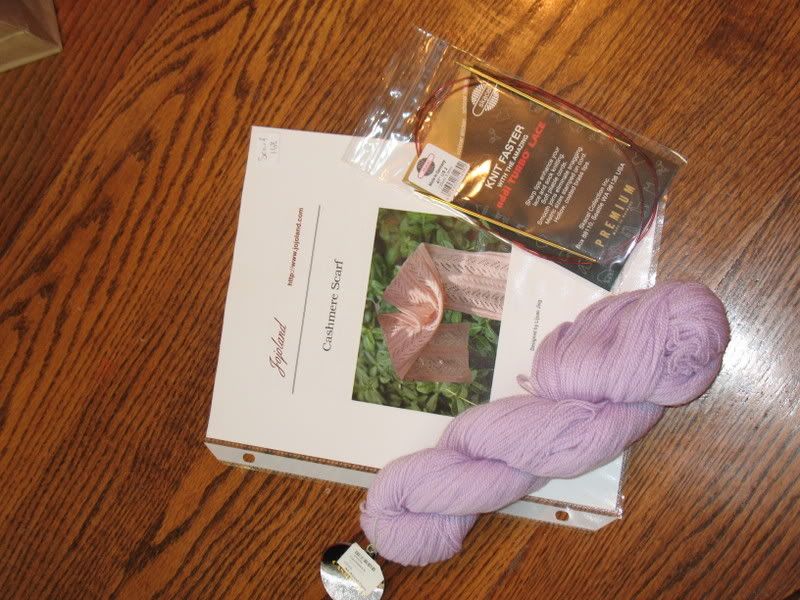 The yarn is Jojoland, and it is 100% Cashmere, and is surprisingly affordable for 400 yards (especially with our 20% shop hop discount!) The pattern is written for the yarn, and takes only one skein to complete the project. I wasn't going to buy it, but Donna and Amanda are such enablers that they said they wouldn't be my friends anymore if I didn't (just kidding). I was also able to get my hands on some of the new Addi Turbo lace needles. I'll let you know what I think of them when I get the chance to use them.
Our next stop was The Knitting Bee, where I found these beauties: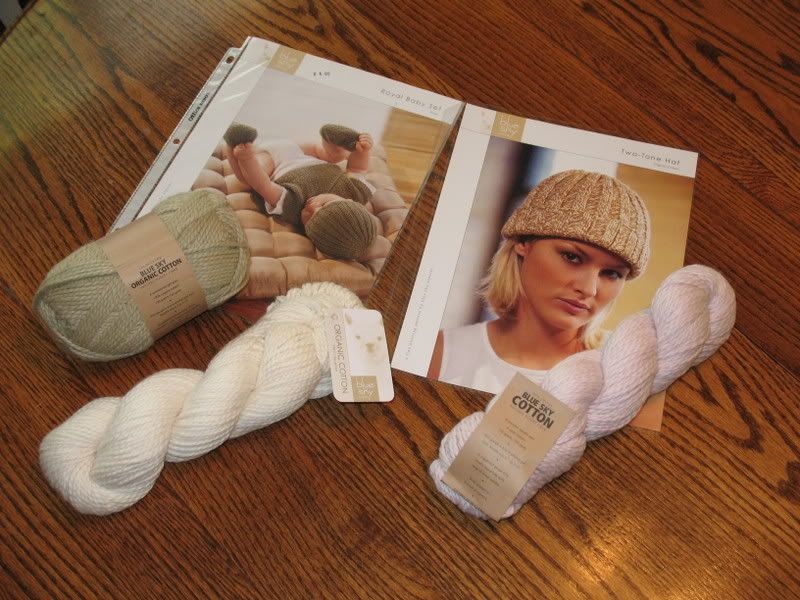 Above is Blue Sky Alpacas Royal Baby Set, that I had been drooling over for actually a couple years now. I didn't realize until yesterday that the pattern was available for purchase (d'oh!) I plan to make a hat for Sproutie with the natural Blue Sky Alpacas Organic cotton, and a hat for ZimDee with the muted green organic Cotton. The hat on the right is basically the same pattern written for bigger heads, which I plan to make for Girlie with the ever so soft pink Blue Sky Cotton.
I also scored a handful of really cool sock patterns, which I (smartly this year) had on my list to keep an eye out for. I think I did pretty well. Pictured with the patterns is a magnetic board to help keep track of your place when you're working on a pattern.
Finally, one of the pitfalls of being on the Shop Hop Committee is seeing all of the raffle prizes in advance. When I didn't win the prize for the Blue Sky Alpacas Baby Hoodie that I had been jonesing for, well, what was a girl to do but buy it for herself? I plan to make it for ZimDee and pass it down to Sproutie as they grow, which little boys do, all too fast. Isn't that a luscious color of brown? And I'm not really a brown person, but for this I made an exception.
The next store we visited was Knit Purl. They were the only shop that offered a 15% discount whereas all the other shops offered 20%. But of course, they had something that I really wanted: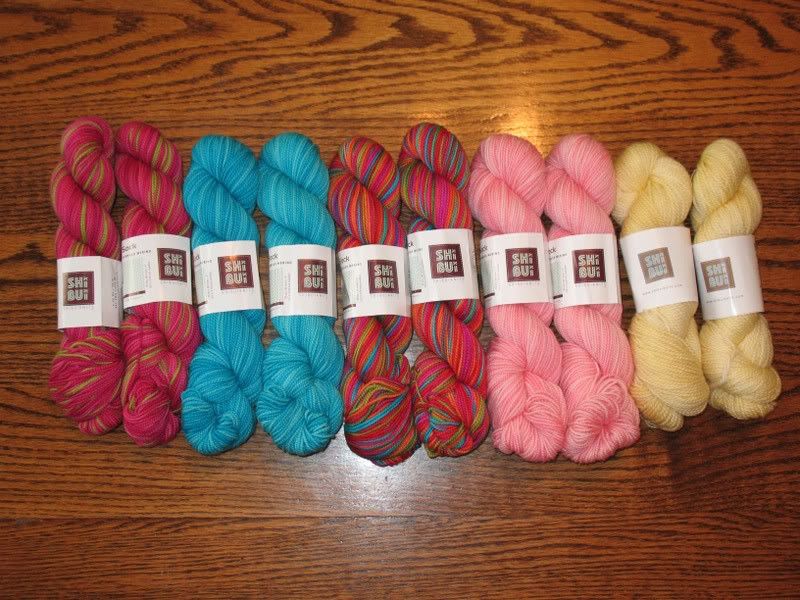 This yarn is called ShiBui, and it is made exclusively for the store. It's 100% superwash merino, and I can't even begin to tell you how squishy and springy it is. Instead of illustrating to the store that offering a bigger discount would produce larger sales, Katrina goes ahead and tips the scales and throws it all off. What can I say? I'm a dork. But I have been searching high and low for a delicate soft pink and soft yellow sock yarn for-like-ever, so when you put it right in front of my face during a SHOP HOP, people, what am I supposed to do? I
know.
The next stop was Dublin Bay, which is a gorgeous yarn store and not to be missed if you are ever visiting in the Portland area. Most people I spoke to on the shop hop claimed this was their favorite store. I can't say I blame them. Chandeliers, wood floors, friendly, helpful staff that actually know what they're talking about. What's not to love? There I happened upon this:
The sweetest cutest little stuffed bunny kit from Rooster called, of course, "Miss Bunny". I actually had to fight my own mother for this, as it was the only one the store had. This was some serious shopping, people! The fact that she gave birth to me could have no bearing on my resolve to get what I wanted that day. Actually, I think she let me have it, knowing that she could try to use the guilt card in the future to make me give the finished object to her.
I was also able to get some Hand Maiden Sea Silk, which wouldn't leave my hands once I touched its incredible softness. To show that I'm a bargain hunter, I picked up some Katia bamboo that was on clearance (I scored at 70% off). The pink and blue balls are destined to become Norberta for my sweet dragon-obsessed Girlie. I also found the most adorable sheep calendar and greeting cards by Thomas Joseph.
The next store was Lint. Trish Anderson from Tanglewood Fiber Creations was there, selling her beautiful handspun yarn at major discounts. I was able to get this: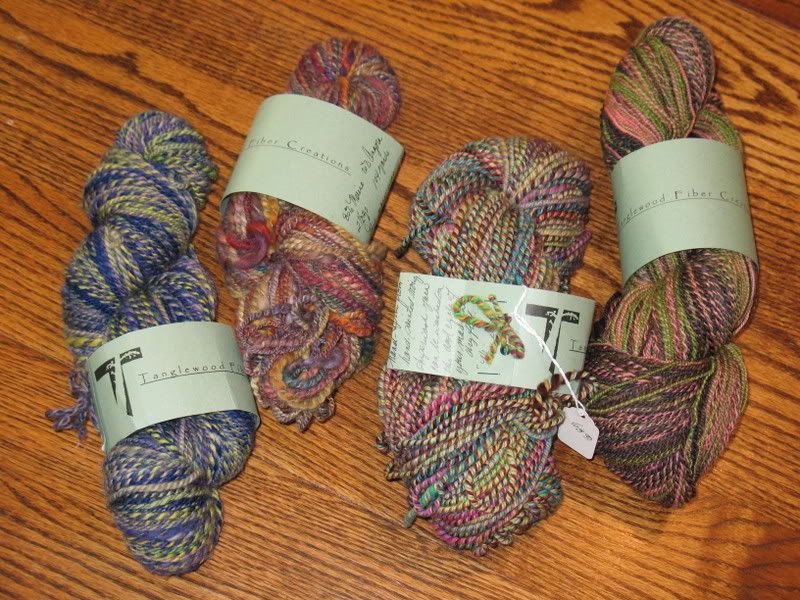 The skein on the far left is to become a hat for my husband, since it's in our high school colors. The two skeins in the middle will become scarves, and the skein on the right is going to become socks for moi. But that's not all.
Trish was selling items hand-knit by her own mother! The tags read "Spun by the daughter from the finest Merino wool, knit by the mother." Softy that I am, I couldn't resist. You couldn't make these items for these prices! After my discount, I got the hats and slippers for $8 each, and the adorable sheep socks for $16, which will become my house slippers.
Just look at the close-up of these sheep: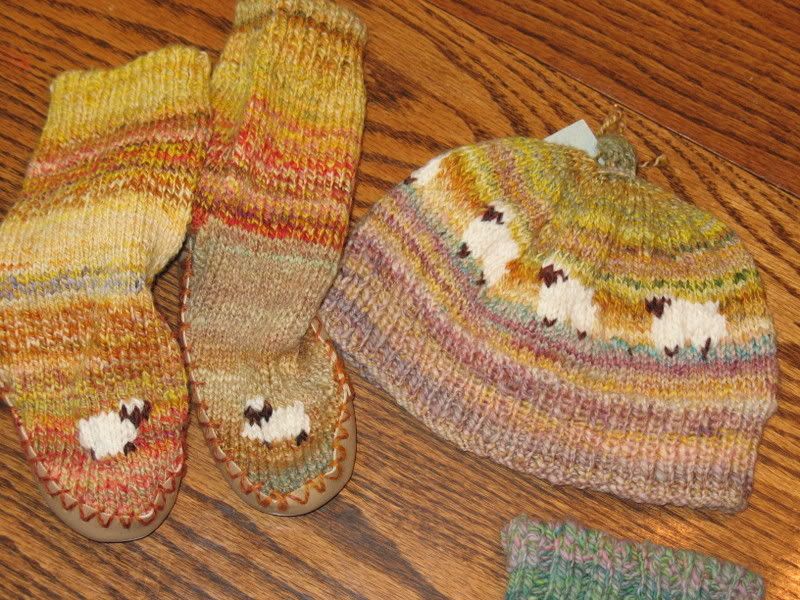 And look at sweet Sproutie modelling them:
At our last stop, Molehill Farm, I came away with these: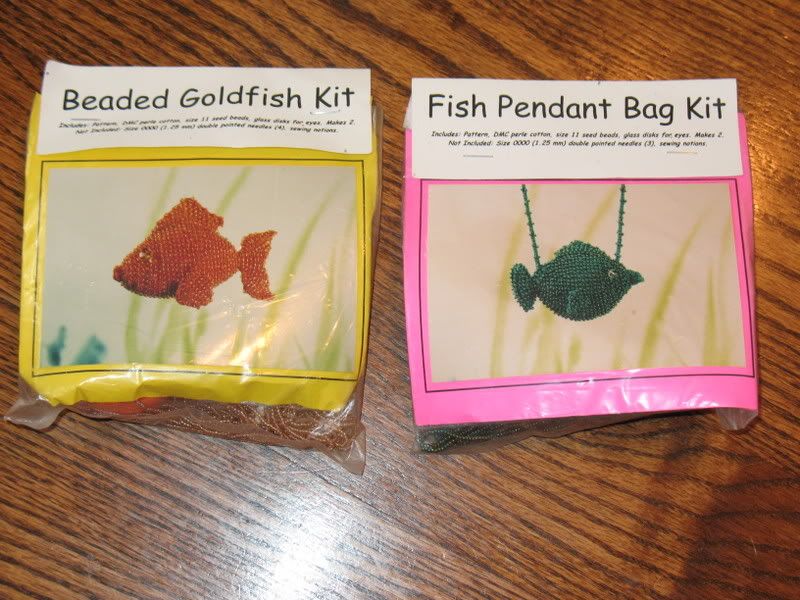 Two beaded fish kits to knit so my ZimDee can love me forever and ever.

It was quite a day and quite a haul. I'll be busy with these projects for some time, though if the urge to knit some cool socks along the way hits, I may have to answer the siren call...