I've never gone two weeks without writing in my blog before. So much has happened.
We left off with my ouster from Sock Madness in round 2. The pattern for round 3 was released last Wednesday, and it was with genuine relief that I didn't feel under the gun to have to knit it up quickly. I've heard from many people that this is their favorite pattern so far in the tournament. I have filed it away to knit sometime
at my leisure.
I do like how that sounds.
I received some wonderful birthday goodies from sweet friends. My wonderful secret pal sent me two skeins of Louet Gems Pearl in the Eggplant colorway that I had been coveting (Isn't that a sin? This yarn may well be worth it). My sneaky pal (I just know we're going to get along) had asked me which was my favorite Cookie A. pattern, to which I replied that I really wanted to knit the
Gothic Spire
socks, but couldn't find the Eggplant yarn anywhere. Lo and behold, a birthday package arrived with the Eggplant yarn inside. Now that's what I call spoiling. Thank you so much, Secret pal! You made my day.
The very thoughtful
Kim
sent me a care recovery package with teas, a refrigerator magnet, and a relaxing music CD to help me get over the craziness of Sock Madness. You are one of a kind, Kim.
And I met
Amanda
for lunch at the Macaroni Grill (ooh now I'm getting hungry...) where she gave me a tea cup and tea diffuser and three yummy balls of Crystal Palace Kid Merino in the prettiest purple, lavender, and green (one of my favoritest combinations) I've ever seen. Thanks again, girlfriend!
Thank you to all of my friends who emailed or called me on my birthday. I feel very blessed to know each and every one of you.
Most of my family came to town for the week of spring break and my birthday. They were here for a very special reason--to plant a tree in memory of my brother. More details about the tree to follow, but right now I'm going to show you how we celebrated my birthday: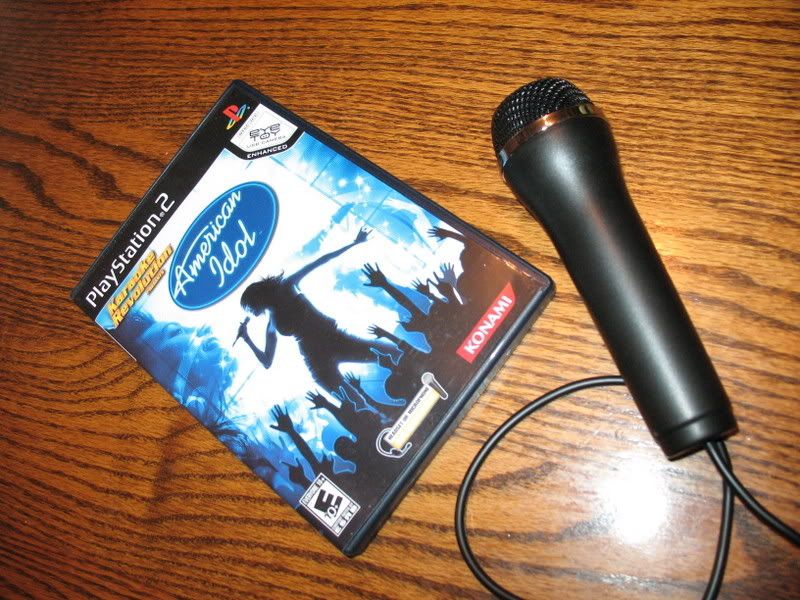 Oh, yes, that's American Idol karaoke. And let me tell you something, that Simon is brutal. I can't think of a funner way to spend your 38th birthday than singing badly into a microphone along with your mother, two sisters, daughter, and niece. I must also confide that the mimosas were flowing freely, courtesy of my sister L's sweet birthday gift of ornamental champagne flutes. Trust me, nobody can touch my rendition of Heart's "Alone".
We ate my favorite birthday cake, a quadruple layer chocolate cake that weighed 7 pounds. We played cards and games. Some of us stayed up until 3 am laughing and crying. There were many showings of "Firefly".
I'm still recovering.
We planted the tree on the last day that we were all together. It was a beautiful sunny day. We chose a Weeping Atlas Cedar, which we all felt was very appropriate. We all prepared a little something to plant with the tree. I enclosed my wishes in this: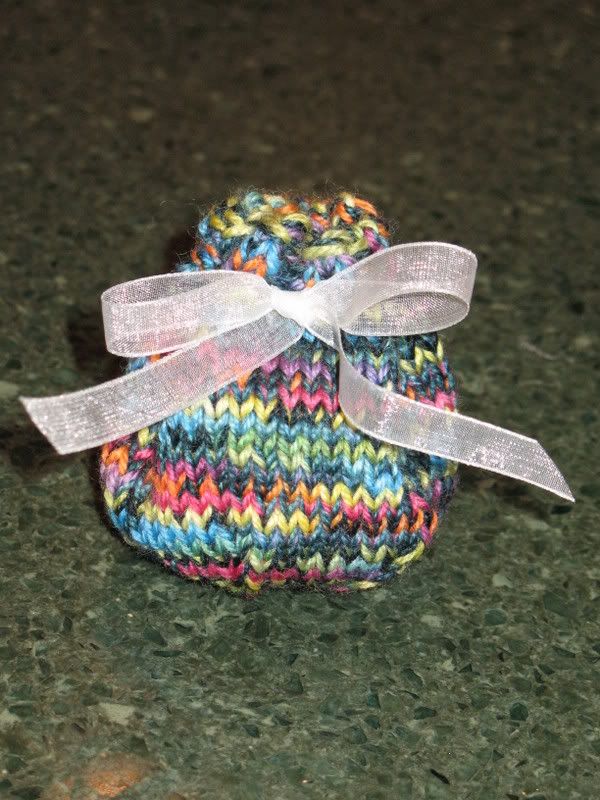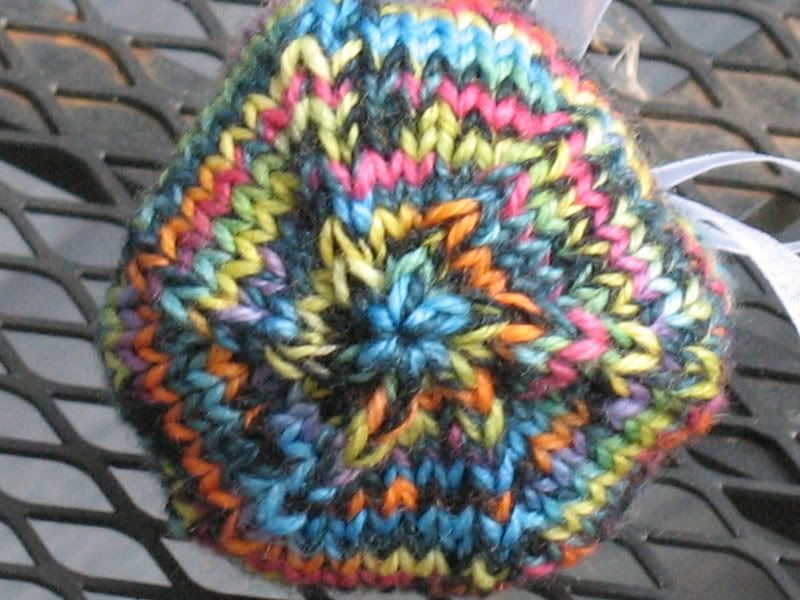 One of my very favorite yarn sellers,
Ruby Sapphire
, listed these two yarns for sale: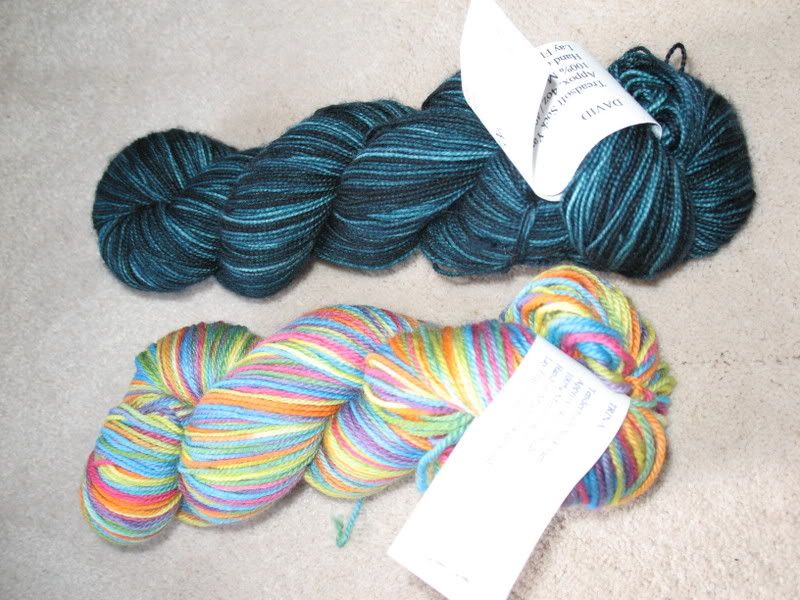 Can you guess what they were called? The colorful one on the bottom was named "Trina" (what my family has always called me) and the beautiful blue-green on top? David. My brother's name. Did they know? Do they read my blog? Or was it all a wonderful coincidence?
I decided to combine the two yarns together to knit the pouch (the pattern can be found here).I enclosed my wishes and a few meaningful trinkets and placed them at the roots of the tree.
You can also see the sweet things my mom and sisters left with the tree.

Here is David's tree:
And how it looks in my yard: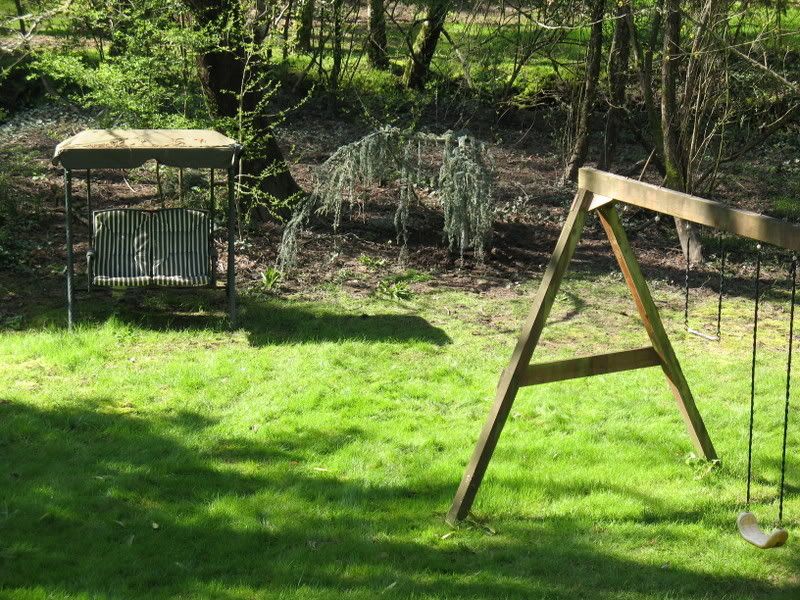 Planting the tree for David has given me a real sense of peace, and it stands as a physical symbol of my path to healing, as well as a place to go to be with him in my thoughts.
Another symbol of beginning to heal? I had 4 inches cut off of my hair yesterday.
Before (look at that sad little face):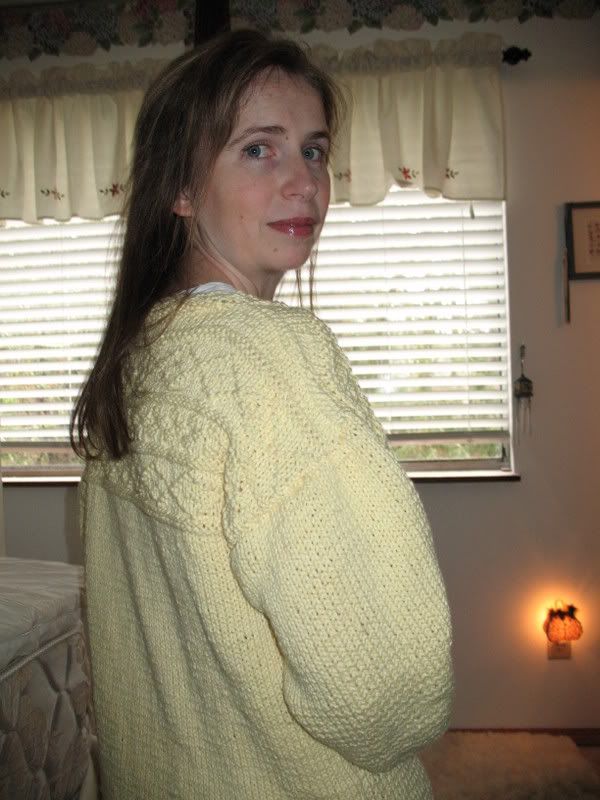 And After: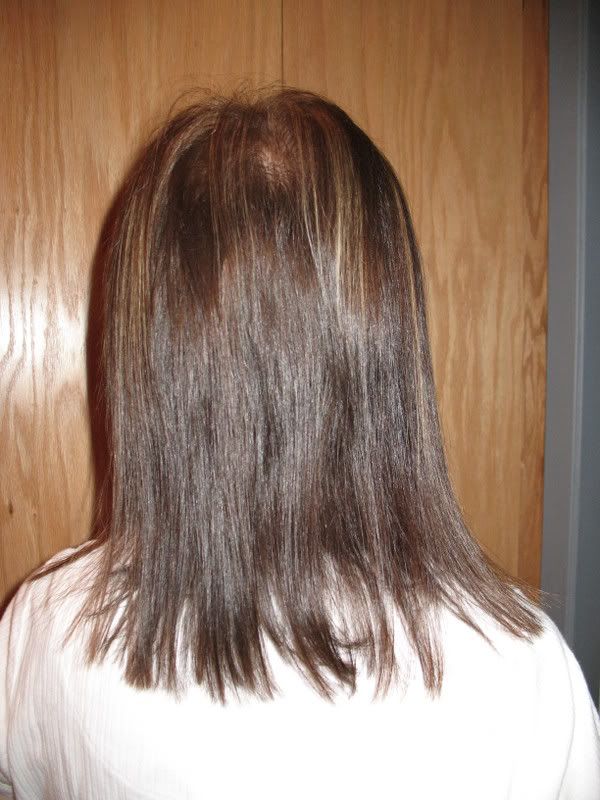 I also had it darkened to match the color of my boys' hair. No, I'm not grey yet, just having a bit of fun. I'm actually wearing little braids today, which I can show you courtesy of ZimDee playing with the camera: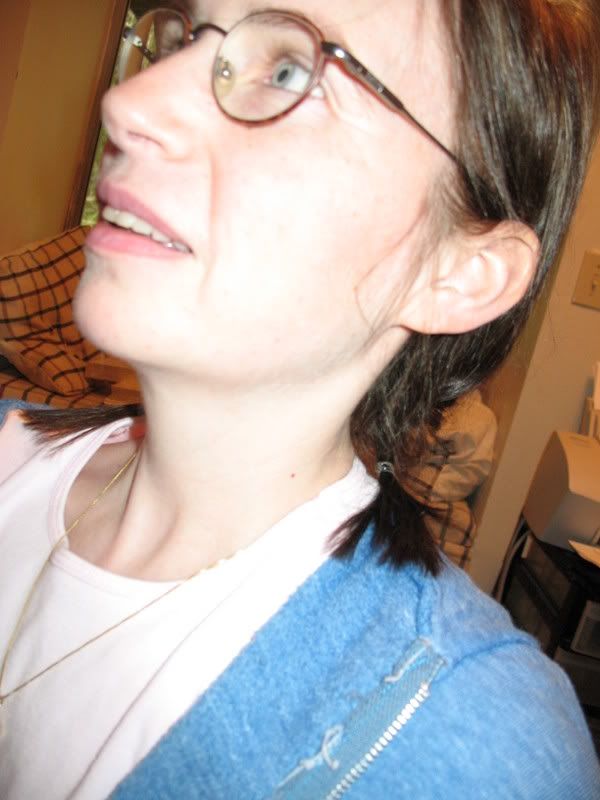 That must be what I look like when I'm sitting at my computer. That will give you all a good mental picture of me writing on my blog. Notice my favorite ratty blue sweatshirt that I'll never part with--it's way too soft to get rid of now!
Finally--a finished object. These are my Sockret Pal socks that I was supposed to mail by April 1st (Sorry, Laura!) But I hope they are worth the wait!
Pattern: Molly Pitcher Socks by my Sockret Pal spoiler, Kimberly, at
Woven N Spun
. Isn't it pretty?
Yarn used:
Sunshine Yarns
by Dani, another great little Etsy shop, in the Sangria colorway (fabulous!)
Needles: Size 2 Knit Picks circulars.
Speaking of Knit Picks, what did I find when I visited their site just the other day? Another project that I knit for them,
Lace Cuffed Socks
: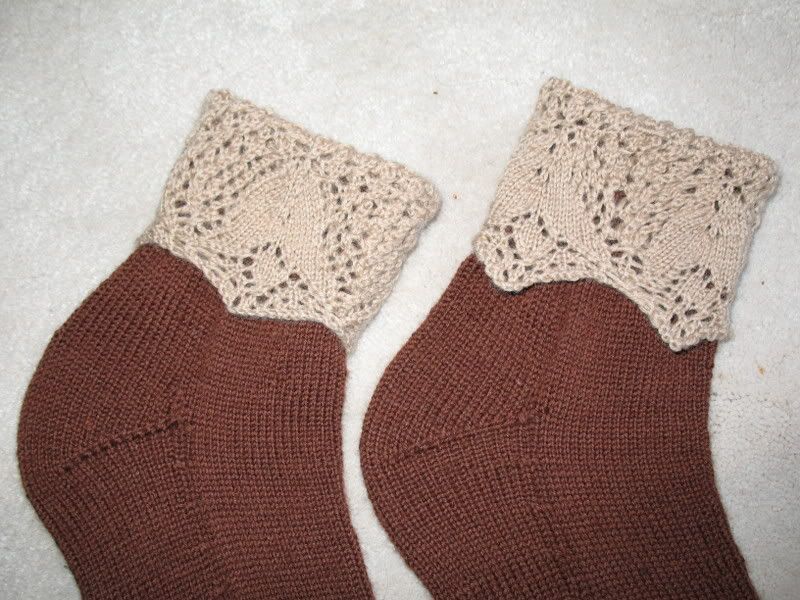 The pattern was from the book
A Gathering of Lace
by Meg Swansen (daughter of the great Elizabeth Zimmermann). The yarn is KnitPicks Essential in cocoa and fawn. The entire sock is knit toe up in stockinette, which is very easy. But let me tell you, the cuff almost did me in. It took me days and days to get it just right. I must say I'm pretty pleased with the finished product, however.
And I was tickled to get the Knit Picks catalog and find a picture of the Straight-Laced Socks I knit for them in there.
Now Knit Picks has me working on another secret project, not socks this time, to be unveiled in upcoming months.
I'll leave you with a picture of me and my babies this Easter morn:
They don't look too happy in the picture (I think Mr. Sunshine was in their eyes), but trust me, we had a good time. Just look at those brightly colored eggs in Girlie's basket.
My love to all.