It's official: I'm out after round two of the Sock Wars. Not for lack of trying, either. I followed my dear friend
Mamma's
advice and turned my visiting family into my own imported personal cheering section. I was doing so well. Remember how I was
just
saying in my last post how second socks seem to go so easy for me? I think I was setting myself up to fall on my own sword.
I finished knitting the first sock (except for kitchenering the toe) late into Friday night. I woke up bright and early on Saturday and started right in on the second sock. Smooth sailing, or so I thought.
I must have knit the 2-inch ribbing over a dozen times, and it never behaved right or looked right. If I wasn't so in love with the yummy yarn I'd have pushed forward, but the Claudia's Red Wagon just pleaded for perfection. Finally at midnight on Saturday night, after knitting and frogging the cuff
all day
, I compared my work to the first sock and realized that I had left something out. Something major. Like a knit row in between each ribbing row. Aaaaaaaaaaaah!
So at midnight I cast on, to work the sock
correctly
this time. And I knit for four continuous hours, until I literally couldn't see straight anymore. My opponent still hadn't posted her finished socks, but in the interest of, I don't know, staying healthy, I had to retire for the night (or early morning).
When I rose at 8 am on Sunday morning, I checked for my opponent's status to see if she had finished. She hadn't posted anything, so I continued on the sock for another hour. When I checked back in after that hour, her finished socks were on the list. Finally.
Here is a picture of how far I got in the making of my socks: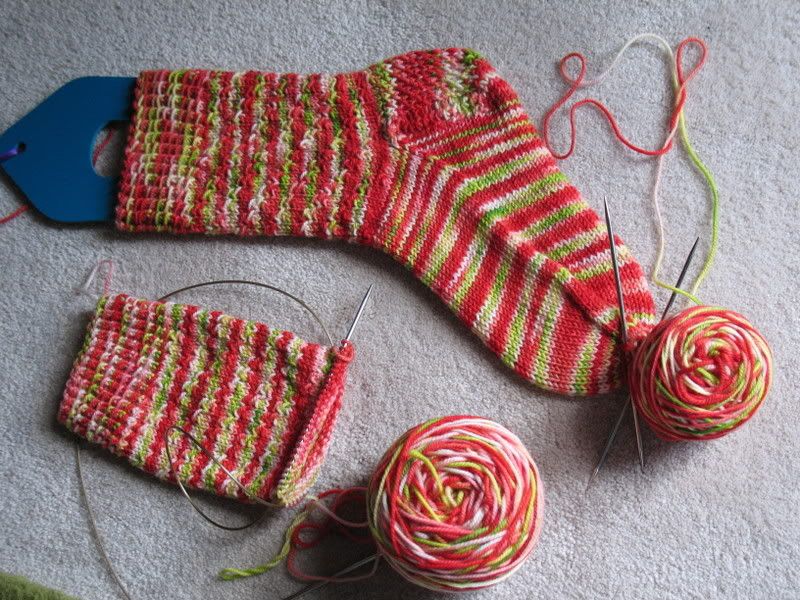 I have mixed feelings about being out of the tournament. The fierce competitor in me is disappointed that I couldn't advance further in the competition. The realist in me knows that I really am a slow, contemplative, meditative knitter and would likely lose a speed knitting contest to a 4-year-old. A 4-year-old monkey. Really. My common sense tells me that even if I advanced beyond this round, my days would have been numbered in any of the future rounds. But I liked the idea of being a dark horse. Letting my money ride on a dark horse has paid off more than once in my life.
The wife and mother and sleepy person in me is a little bit relieved to be put out of my misery. I fought a good clean fight, with style, and I'm happy with the effort I put into it. And really, that's all that matters, isn't it? Besides all the free sock patterns I'll still have access to as a participant in the tournament.
I really hope they make sock madness a regular occurring event. Even though my run was short, I really had fun. The best part? Once again driving my friends and family crazy jabbering on and on about the competition. I love doing that.
And now that the competition is over, I can unravel some stitches and make these beautiful socks fit ME. Yes, Me.
Only after I finish my Sockret Pal's socks and a few other projects I've got going on...