I received my match today for the
Sock Hop Sock Swap 2007
.
This is the kind of swap where you pick out the pattern and knit the first sock for your pal, and send those along with the yarn to finish the second sock; and of course some goodies. This is a relatively small swap, with only about 13 participants. Swaps like these are a good way to avoid second sock syndrome.
Fortunately, I'm one of the few who doesn't really suffer from second sock syndrome. For some reason, I really like to knit a pattern more than once. And for me, the second sock seems to fly off of my needles, since I'm already familiar with the pattern by then. I have certain patterns in my notebook that I refer to again and again when I'm looking to knit a gift for someone. Those are my classics.
I haven't designed anything by myself yet, and before now never really felt the need. But I'm starting to get a feel for how certain stitches come together in certain ways, and I'm not ruling out knitting something of my own design in the future.
I've also joined the
Favorite Socks Knitalong
.
I just bought the book as an early birthday present to me (I'm so bad that way), and there are definitely a few patterns that I'd like to knit this year. Specifically, the Austrian Socks by Candace Eisner Strick and Meida's Socks by Nancy Bush. Most of the patterns in this book are not new, having appeared in earlier issues of Interweave Knits magazine. But the publishers have included six new patterns to keep you interested. And since I didn't start subscribing to Interweave until a year ago, it's nice for me to have all the patterns together.
I'm happily working on some secret socks for my Sockret Pal. Since she already knows my identity, I can't post a picture yet until I send them, but rest assured they are lovely.
My Secret Pal 10 hostess, Shelby, is putting on a contest. Since the prize involves Socks that Rock yarn as the prize, count me in! The first part of the contest is to make sure that the link to your SP10 questionnaire is clearly visible on your blog. Check. (On my sidebar). In the second part, she wants to see what we're working on right now. Since I can't show you my Sockret pal socks, I will show you another pair that I'm working on at the same time. In fact, these socks were
supposed
to be for my Sockret pal, but, well, I didn't swatch. So sue me. I believe in turning lemons into lemonade, however, so the socks that were supposed to be adult size 8 fit my 4-year-old son. Ta da:
My kids have been asking me to knit them socks for a while now, so I don't mind this turn of events at all.
I just love the look of his little feet and skin with the sock. Notice how he likes to pretend he is knitting any chance he gets.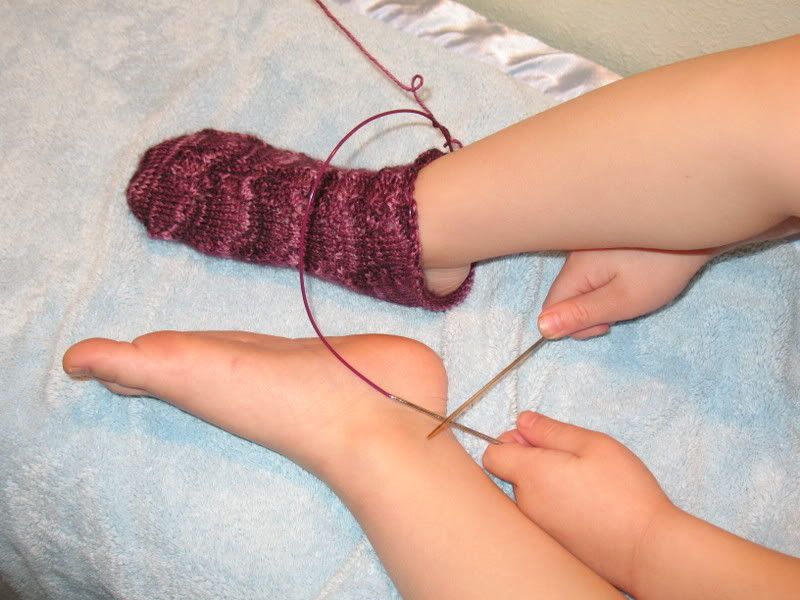 I'm also well into the second sock for my Sockret pal, so no worries there.
Yarn I'm using:
Ruby Sapphire
Sapphire Superwash yarn (75% superwash wool, 25% nylon) in the Gemma colorway.
I have to say I love this little mother/daughter shop. They are super friendly, they answer questions quickly, and they ship fast. And their colorways are out of this world.
Pattern: Molly Pitcher socks by Kimberly at
Woven N Spun
. Pattern to be made available soon.
Finally, it's T minus about 12 hours for the next round of Sock Madness. Your little warrior girl will do her best under the circumstances.
And in less than 36 hours the first of my family will be arriving for a week. I've been busily preparing my house for the visit, and really like the changes I've made. I did massive spring cleaning over the weekend, and it felt very healing to be out with the old, in with the new; both to my house and to me personally.
I love it when that happens.