Test knitting makes for sparse blog fodder, because if I can't talk about my knitting, what do I tell you all, my pretties?
As I was knitting yet another pair of secret socks that I can't tell you about, my trusty Knit Picks size 0 classic circular needles, which have hardly had a moment's rest since October and have seen me through many, many secret knitting projects, finally gave up the ghost last night. Their little body just couldn't hold out from the constant use and the needle separated from the cable. A moment of silence for my little soldiers, if you please.
At $4.99 a pop, I think the valiant little needles more than paid for themselves. If it had been a pair of Addi's at 3-4x the price, I would have been kinda mad. I put the socks on four double points and continued on with the socks, and determined that I would order another pair of circulars on Knit Picks today.
So this morning I sat down with my cup of tea at my computer and pulled up the Knit Picks website. Of course I have to browse the new sock patterns. And lookee, lookee what I found: the
Straight Laced socks
I test knit for them! Squee! I was NOT expecting that!
So now that they've officially been published, I can share specifics: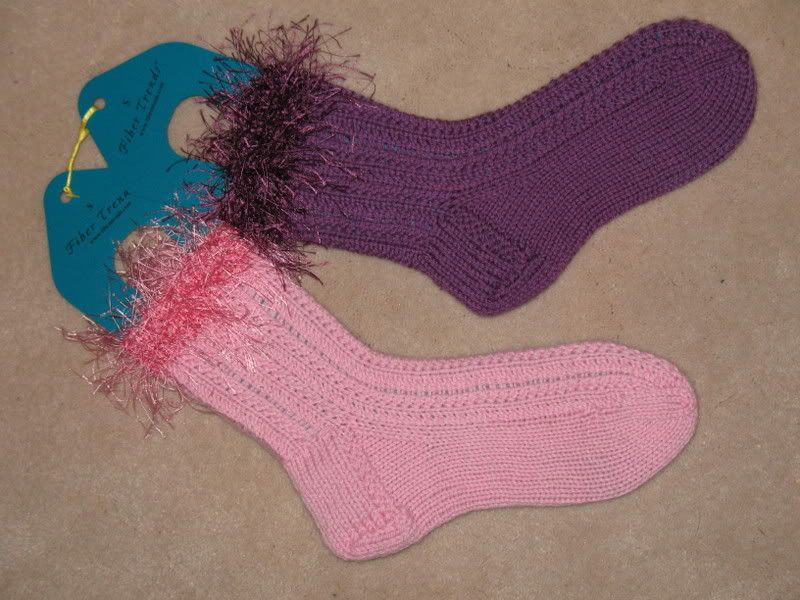 Pattern:Straight Laced Socks from the book
Knit Socks!
by Betsy McCarthy (whom I met in person when she spoke at the Tigard Knitting Guild).
Yarn:Knit Picks Swish Superwash in Wisteria and Ballerina (5-6 balls total) and Knit Picks Butterfly Kisses in Plum and Rose (1 ball total).
Needles: Size 4 Knit Picks Options circulars, using the Magic Loop method
Variations: None, as this was an assigned project.
Observations: These socks were a very quick knit, due to the easy lace pattern and worsted weight yarn. Like a lot of knitters, I've been moving away from using Fun Fur (or Butterfly Kisses in this case) due to lack of stitch definition, but let me tell you, the non-knitters who saw the fur cuff fell in love with it. Go figure. Knitting this sock may be a good way to use up the bits of fun fur left in your stash, or I could easily see knitting the sock without the fur cuff, as the lace pattern is a pretty one all by itself.
The worsted weight Knit Picks Swish yarn was great to work with to knit these socks. I have to say that I love the colors this yarn comes in. The Ballerina was a perfect soft pink, and the Wisteria a nice shade of my favorite color, purple.
This was the first sock book that I bought (from the author herself), and for a beginner, the perfect one. Betsy lays out the patterns in a very logical manner, and there are a lot of great patterns in the book. This is the one book I still pull off the shelf whenever I'm ready to kitchener the toes of my socks, as she diagrams and explains the method so well.
What a happy surprise to wake up to today.