Thank you all for your warm wishes for my recovery from bronchitis. I'm taking it one day at a time.
I finally got my Oregon State Fair pictures loaded on blogger. I took my image hosting over to Photobucket, which so far seems much faster. If it continues to work so well, I may just use that for all of my photos in the future.
Ok. To set the stage, remember I submitted 5 items in the county fair:
*Raspberry freezer jam, which won a 2nd place ribbon
*2 Crystal bracelets, winning 1st & 2nd place ribbons
*Mock Croc socks, which won a 2nd place ribbon, and
*Blue Picot bag, which won a 2nd place ribbon.
I was thrilled that everything I submitted won a ribbon.
For the Oregon State Fair, I chose to enter 7 items. I left out the second crystal bracelet after learning from the county fair that the two crystal bracelets competed against each other. I thought I'd save the second one for next year. I still submitted the first place bracelet, the socks, bag, and raspberry freezer jam. I added strawberry freezer jam, a beaded Christmas ornament, and a Daisy stitch silk scarf.
I had to submit the items well in advance of the fair opening. I sat on pins and needles waiting to find out how they did.
The fair is held in Salem, which is an hour south of Portland.
Chrissy
and I have made plans to meet up next weekend at the fair and spend however long our husbands and children will tolerate all of the festivities. I am willing my body to be completely healed by then. Which means as much rest as I can get this week. With three kids. It could happen.
But the fair opened last Friday. I had to make a road trip down south past Salem that day as it turned out. How could I not check on my pretties? Of course I did. But all I did was go straight to the exhibition hall gate. They let me in without charging admission when they found out that I just wanted to look at my entries. Isn't that nice?
I went over to the jam section first, because it was easiest to find, and pretty competitive. It was really nice how they had all the jars arranged on lit shelves, and roped off so you couldn't touch them. I wish I had gotten a picture of that. (I will when I return next weekend). Instead silly old me just took close up shots of my own jars of jam. And here is what I found:
3rd place for my strawberry freezer jam!
and 2nd place for my raspberry freezer jam!
Hooray!!
This time I was sure I typed up the recipes and canning methods nicely on the computer. I prefer the raspberry jam to the strawberry jam myself, so I have to say I agree with the judges. So now when I give my little jars of jam away as gifts, I can say "this is an award-winning recipe." Ha! So the raspberry jam won 2nd place in both the county and state fairs. Pretty consistent so far.
Next I wasn't sure whether or not to check the beads or the knitting. I scooted on over to the bead section.
Now the crafts, like beading and knitting, are all locked in glass cabinets and displayed. I think that's a nice touch. Also, the exhibition hall is indoor and has air conditioning at the state fair. This is a lot different from the county fair where my knitted items were folded up on a table under a big tent in the grass. So this was high class stuff *giggle*.
I found my bracelet first: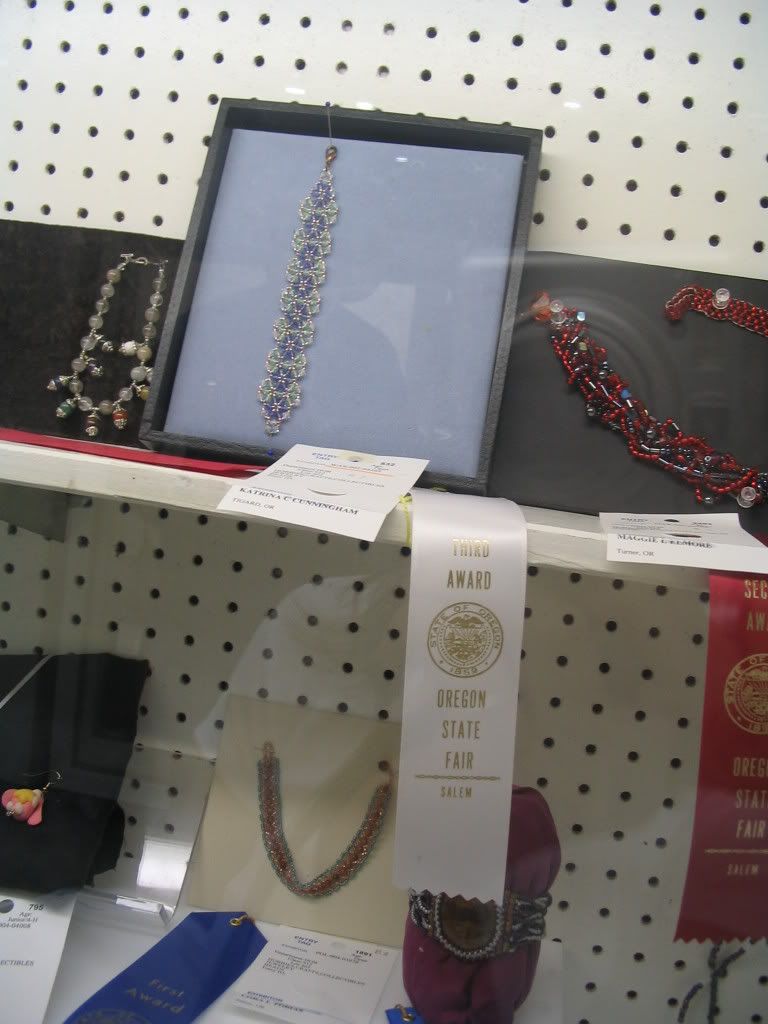 It had a 3rd place ribbon. I thought it might place higher since it got a 1st place ribbon in the county fair, but obviously the competition is tougher in the state fair. And I'm not complaining--I was happy that it got a ribbon at all.
Next I found my ornament. With a blue ribbon. Happy, happy, happy. The picture actually doesn't do the ornament justice. I sewed the beads in a net around the ornament with a needle and thread. This is a one-of-its kind for me because it took a long time to do. I've since made several easier versions of this ornament that take about a quarter of the time to do, which I will probably enter into next year's fair. But at the moment, we are talking about you, pretty blue: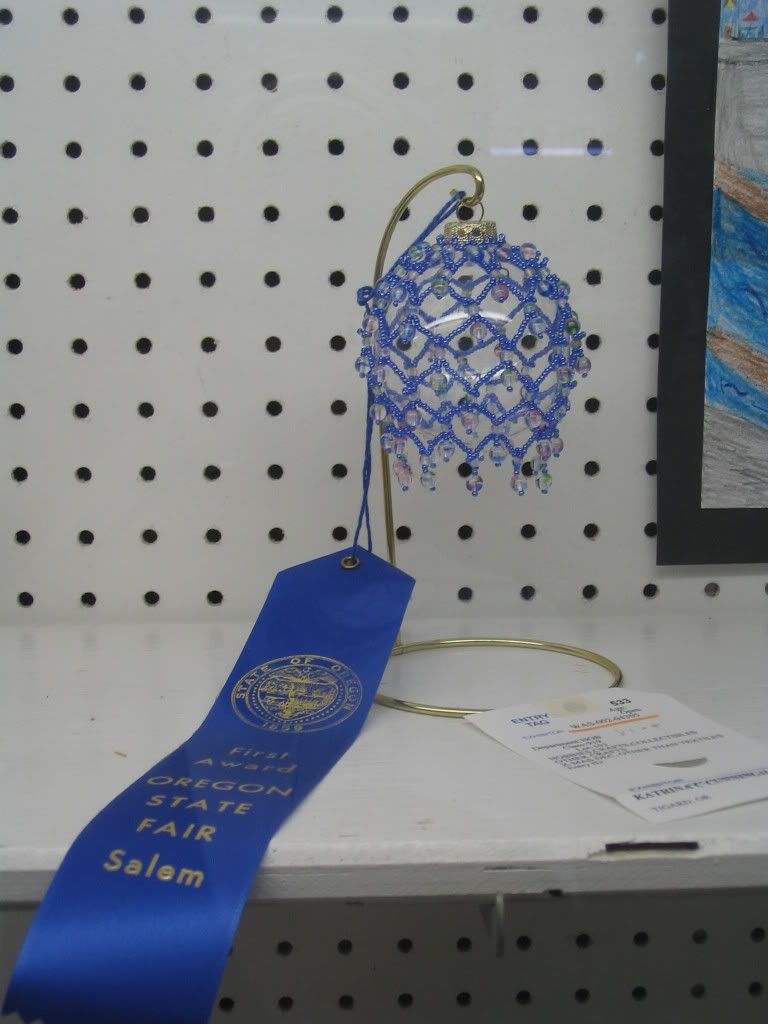 Ok, so that's four ribbons for four entries. What about the knitting?

I have to say, there was some beautiful things knitted and crocheted for the fair. It was very inspiring. I found the cabinet that held my scarf: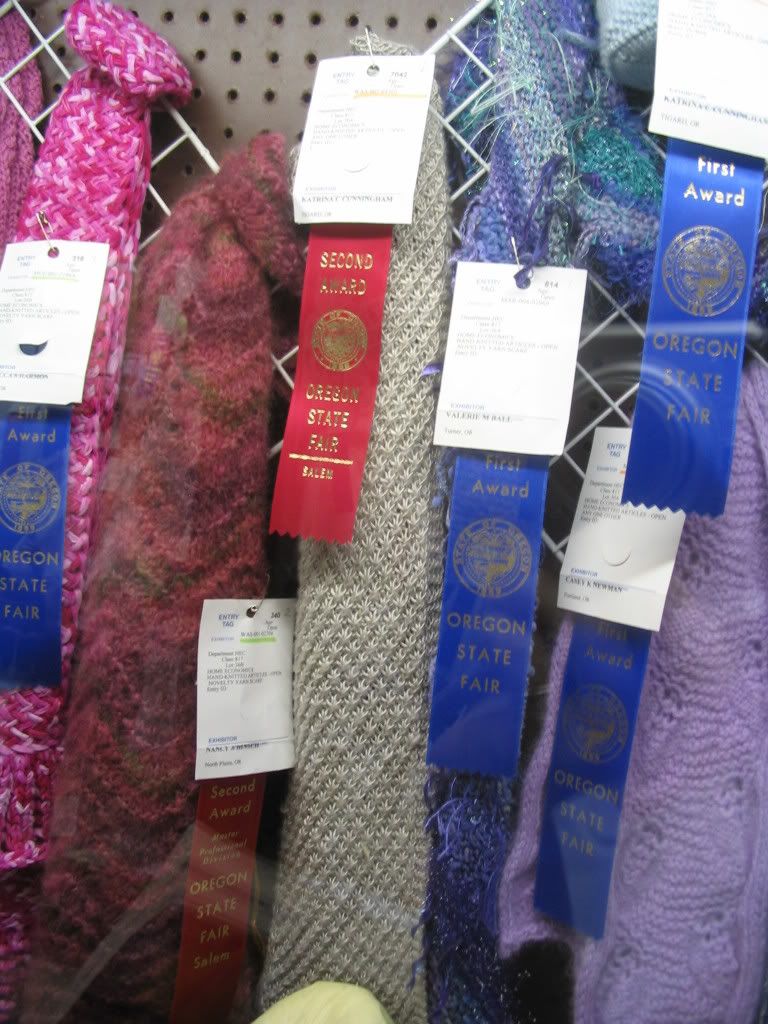 (It's the silver one in the middle). 2nd place. I'll take it. Especially when the first place winners are purple and pink, colors which I love. I'm just happy it got a ribbon. I will be mailing this scarf to my sister in Chicago when I get it back from the fair. Should I send the ribbon with it too, A.?

The socks were stuffed very cutely at the foot of the scarves. And once again they earned a 2nd place ribbon, which still overwhelms me since they were my very first pair of socks to knit, ever. Again, this is where the judges of the county and state fairs were consistent.

And then I couldn't find my little blue picot bag anywhere. The cabinets were arranged in categories, like machine knit, crochet, hand-knit accessories, etc. I walked around and around the cabinets several times, and even back to the beading department. I couldn't find the bag anywhere. Then I started to wonder if it got lost. It's pretty small, and I dropped it off in Portland to be transported down to Salem. I was just about ready to go find someone in charge to ask them about it when I decided to look very very closely at all the cabinets one more time. I looked through them all by category, and decided that the only cabinet it could be in was the same one that the socks and the scarves were in. After all, there were other bags in there.

Then I looked up. The bag was perched just a few inches higher and to the right of the silk scarf. I don't know how I missed it, but it was worth the wait when I found a blue ribbon hanging from it. Hooray!

This bag won 2nd place in the county fair, so I was surprised at the 1st place ribbon in the state fair. But I'm very happy about it.
I've given this bag away as a gift three different times (to Kim, who was my pal in the Knitting Vacation Swap; to Stephanie because she is my niece and I luv hah; and to my one skein secret pal.) It's a fun knit, and now you ladies know that it's also award-winning.
So I'm very excited that I earned a ribbon for every item that I submitted to both fairs. That's going to be a tough act to follow next year.
Many thanks to Larissa for lighting this fire with her knitalong.