This morning I put Girlie on the school bus for her first day of 3rd grade. Here is my sweet angel, getting bigger every day:
Her brothers and I surely miss her sweet presence throughout the day. But it's time fer her to git some more book-lernin'.
I've been looking over some of my previous posts, and I realized to my horror that I haven't shared with you some great news: Sproutie is walking! He's been mobile for about three weeks now, and boy is he fast!
Forgive his silly mommy for dressing him so funny. I had just sorted through the kids' closets over the long weekend and thought we'd play a little dress-up.
Speaking of Labor Day weekend, we also went to the Oregon state fair with
Chrissy
and her family. It was a fun day.
And tonight
Amanda
and I will be going to see the Yarn Harlot at Powell's bookstore. Amanda has agreed to help me with a roadblock I've come up against with my magic loop mystery socks. I'm not sure how to start the heel flap...
And finally, I've finished Girlie's swing coat sweater! My goal, as you remember, was to have it done before her first day of school. And last night I did just that.
Here is my beautiful girl in the sweater she loves:
Pattern:
Girlfriend's Swing Coat Sweater
by Wendy at Knit and Tonic.
Yarn: Blue Sky Alpacas Organic Cotton, 5 hanks (very yummy, and I would definitely work with it again).
Needles: Size 8 Addi Turbos for main body of sweater, Size 8 double points for attached I-cord
Verdict: This is a very cute sweater pattern, all knit up in one piece. I especially love the back; the collar and the way the bottom of it swings out. But if I'm being completely honest, I'm not in love with the front. No matter how much blocking I did, I could not stop it from curling inward. (Most likely from user error). Even after adding attached I-cord all around the edges of the sweater, the curling continued.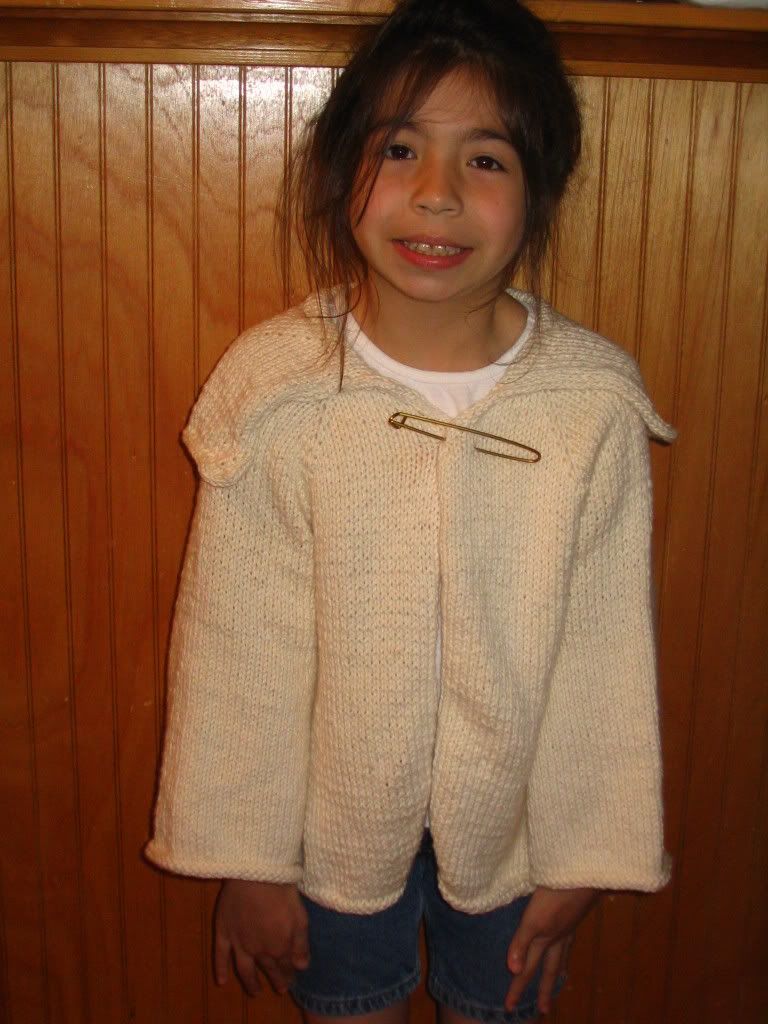 (Forgive the stitch holder pin). I wouldn't enter this into the state fair to be judged, but the only person whose judgement matters on this one is Girlie, who loves it. So there you have it.
I've made three baby sweaters for Sproutie, so this is the biggest sweater I've made so far, and that is significant.
I'll leave you now with a picture of my three growing children.
I love them so.